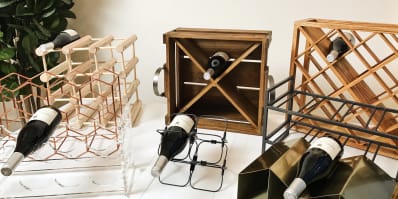 We have a lot of experience with wine racks, and this year we're standing behind the tried and true - J.K. Adams - while finding some great new additions to the crowd. They will all do the job extremely well, but you will want something that suits your home and fits in your space. Because after you buy nice wine, where do you put all the bottles? The ideal wine storage is horizontal, so the cork is always wet, but how to accomplish that? All of these will hold your wine in the ideal position, declare your good taste to anyone who enters your kitchen, and, if you regularly keep around multiple bottles of wine, even save you quite a bit of space.
Every week we bring new products into our "test lab" and have the whole office vote on their favorites, based on quality, appearance, and price. The winners become the Top Picks of our Annual Guides, which showcase the best products of the year.
Maxwell Ryan, our Founder & CEO, chooses his own Top Pick as well, and demonstrates his favorites in our Annual Guide videos and weekly Instagram story series. Come back every Thursday for a new Annual Guide and Maxwell's Top Pick Instagram story!
Best Wine Racks 2017: Watch the Video
---
Maxwell's Top Pick
J.K. Adams Ash Modular Wine Rack
I have installed many wine racks and had many of my own, and my favorite continues to be the J.K. Adams modular rack. While it may not appeal to everyone as a super stylish solution, it's a perfect combination of modern design and warm wood that will allow is to fit into almost any decor. It is noticeable, but doesn't scream for attention. It basically solves the problem in quiet style.
Additionally, and where it really crushes it, the modularity allows you to build it up into any shape for as many bottles as you want. This is a hard design to beat. The basic kit will hold 12 bottles for about $40, but you can add kits and shape them up to hold 40 bottles ($120) or 200 ($666). I've done whole walls with J.K. Adams and it just gets better the more you grow it.
Putting your rack together is easy, but be patient, because it will take you time. The wood is beautifully cut and very hard, which is good for longevity and cleaning, but means the pins are all tight and have to be slowly and gently hammered into place. J.K. Adams also sells this classic design in grey wood as well as with metal pins for a more "urban chic" look.
---
For The Illusionist
Pinetti Wine Rack at Harlequin Illusions
If you really want a statement piece, go for this wine rack that doubles as an optical illusion. Former illusionist Tony Potter designed the Pinetti as a way to combine his two passions - magic and woodworking - and each piece is handmade in Virginia wine country. It's the perfect solution if you need help making those wine bottles disappear.
---
For the Decorista
Rectangle Marble/Wood Wine Rack from Threshold
Though this rack only three bottles, we like the marble/wood design (and the budget-friendly price). It's an easy solution if you only have a couple bottles to store, or alternatively if you have a large collection and want to display only a few at a time.
---
Clear Wine Rack
This rack (sold singularly) can stack up to three high. Its acrylic construction gives it a very minimal, modern aspect that doesn't add visual clutter - perfect for small spaces that already have a lot going on.
---
11-Bottle Gold Wine Rack
The honeycomb shape makes for an interesting design, and the selection of four metallic finishes means you can match it to a wide variety of decors. Another perk: you can position this rack both vertically and horizontally depending on your space.
---
Herringbone Gold Wine Rack
This beautiful, sculptural rack can stack two high (and you can place a couple of bottles on top, for a total of 14). Inspired by '70s glam and M.C. Escher, this option is a throwback that manages to feel quite contemporary.
---
For the Traditionalist
Iron Stackable Wine Rack
This no-fuss wine rack from The Container Store is both economical AND attractive. This particular size holds eight bottles, but there's also a less expensive four-bottle option if you're looking for something smaller. If it's more space you need, these racks are easily stackable.
---
Founder's Wine Storage Box
This easily portable wine rack perfectly captures that rustic farmhouse feel. One box can hold up to 12 bottles, or you can stack them to add more space and really play up the traditional wine cellar vibe.
---
Pine 44-Bottle Wine Rack
If you need storage for 44 bottles, you must really, really like wine - no judgment here. This larger rack will accommodate your collection easily (and fairly economically), and its light wood finish will fit with any design style.
---
For the Modernist
Houdini Wine Rack
This unique wine rack is professionally designed yet has the best budget price on our list. It was created by Ed Kilduff, an American designer whose work is featured at the Museum of Modern Art in New York City. The rack is collapsible for easy storage and holds up to four bottles, but can be combined to hold up to 48 bottles.
---
Pulse 6 Be Table Top Wine Rack
This fairly simple little wine rack can be oriented horizontally or vertically, and can be stacked to accommodate more bottles. We love that it looks like a true decor piece for a modern home - it's almost like a home accessory that just so happens to store wine too.
---
Tack Storage Wine Rack
If you're lacking in space, try displaying your wine collection on your wall instead. This hanging rack from Anthropologie combines an industrial structure with more traditional wood touches to create a wholly modern and sophisticated storage solution.
---
Wood 24 Bottle Floor Wine Rack
A freestanding bottle rack for the serious wine enthusiast, this one looks equally nice empty or full. The mid-century modern style and eye-catching diagonal slots are a decidedly modern take on the classic wood storage options of the past.
---
Top Tips for Wine Storage
Temperature is important, but not that important. The generally agreed upon best temperature range for wine storage is between 45° F and 65° F, with 55°F considered close to perfect. With that said, your wine will be just fine at room temperature as long as you don't live in a hot climate and have no air conditioning. Temperature typically becomes an issue only when fluctuations are happening, so consistency is key.
Keep your bottles away from the light. Direct sunlight is the enemy of your wine bottles, which is why the real connoisseurs hide them away in darkened cellars or cabinets. If you're lacking in space, don't worry - artificial light in your home won't ruin the wine. As long as you keep your bottles away from windows you should feel free to display your collection out in your space.
Don't overthink it. It's easy to fall into a spiral of anxiety over whether or not you're doing the "right" thing when it comes to wine storage. Figure out what works best for you and your home and go from there, instead of stressing out about creating the perfect wine storage conditions. Keep it simple - and remember to store those bottles horizontally!
---
Our Best Wine Lists:
---
Other Good Resources:
Apartment Therapy supports our readers with carefully chosen product recommendations to improve life at home. You support us through our independently chosen links, many of which earn us a commission.