17 Real-Life Places Straight Out of Nostalgic Movies & TV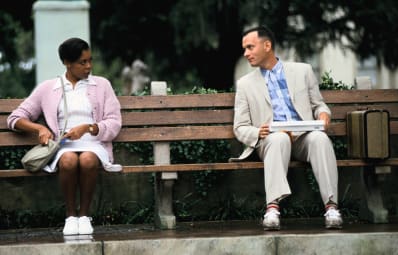 (Image credit: Paramount Pictures)
There are certain places that feel like home even though we've only seen them on a screen. Whether it's a restaurant, coffee shop, hotel, a home, or some other edifice, the locales from our favorite nostalgic movies and TV shows seem to take on a life of their own. They become supporting cast members, in a way.
As you might expect, many of these places are fabricated on studio lots in the Los Angeles area. Others are merely shells that are demolished once filming is done. But there are a few gems that are real—plucked out of reality and dropped straight into some of the most classic scenes ever made—and still exist today, in reach-out-and-touch-it real life.
1. The Forrest Gump Park Bench
There is arguably no other park bench in the world as famous as the one that used to sit in historic Savannah's Chippewa Square. You know the one—it's where Forrest is sitting when that feather first floats down, where he shared his box of chocolates, and in general where he spent roughly two-thirds of the movie telling his life story to strangers. The park bench has since been moved to the Savannah History Museum, but the bench location is prominently marked and has become a popular photo opp spot.
2. Ghostbusters HQ from the original Ghostbusters films
Nowadays, if there's something strange in the neighborhood, you'll have to call the fire department—specifically Hook & Ladder Company no. 8, the fully operational New York Fire Department firehouse that served as the exterior of Ghostbusters HQ. If you sneak a peek in the garage, you'll find fire trucks... not the Ecto-1. Besides, the interior of Ghostbusters HQ was housed in another fire station all the way in Los Angeles.
3. The Kellerman Resort from Dirty Dancing
We all had the time of our lives watching Baby and Johnny tear up the dance floor on the final night at The Kellerman Resort, and it goes without saying we've all imagined ourselves in Baby's shoes. As it turns out, tons of fans actually do get to live out their Dirty Dancing dreams: The real-life Kellerman Resort is Mountain Lake Lodge in Pembroke, Virginia (not upstate New York*). What's more, the resort hosts three Dirty Dancing-themed weekends a year.
* Of course there is a real upstate New York resort that inspired Kellerman.
4. Monk's Cafe from Seinfeld
One could easily argue that Seinfeld would have ceased to exist had you taken away Monk's Cafe. The eatery served as a near-constant rendezvous spot for Jerry, Elaine, Kramer and George. While you can't miss the iconic "Restaurant" sign that had so many cameos on the show, the actual name of the establishment is Tom's Restaurant in Manhattan.
5. The Canyon City from Indiana Jones and the Last Crusade
Prepare to have your mind blown, people. If you're an Indy fan (and who isn't, really?), you undoubtedly recall the mystical hidden city carved right into a canyon wall where they wound up finding the grail. Surely this extraordinary looking facade was fabricated by Hollywood, right? Wrong. In reality, it is the "lost city" of Petra in Jordan.
6. The House from A Christmas Story
While A Christmas Story was set in Indiana, the memorable Parker family home where the exterior shots were filmed is in Cleveland, Ohio. There, at 3159 W. 11th Street in the Tremont neighborhood, the "Italian" leg lamp still cast its soft orange glow from the front window. Although the interior scenes for the movie were shot on a soundstage, owner Brian Jones renovated the exterior Parker house's interior to match the movie. Open year-round as a tourist attraction, it draws visitors from all over who want to check out Ralphie's room, sit on the soft or, naturally, snap a selfie with the leg lamp. Across the street, the official A Christmas Story House Museum holds iconic props and memorabilia including Randy's snowsuit and Miss Shields' classroom chalkboard.
7. Yavin IV from Star Wars
As much as we would like to keep the magic alive, here's a major behind-the-scenes reveal: The Massassi Outpost rebel base on Yanvin's fourth moon in the original Star Wars isn't actually in outer space. For shame, I know. In real life, the Mayan temple ruins at The Tikal National Park in Guatemala serve as this distinctive rebel outpost.
8. Katz's Delicatessen from When Harry Met Sally
A kosher-style New York City deli founded in 1888, Katz's is still open today and undoubtedly used to hearing "I'll have what she's having" on the daily. If you don't know the Meg Ryan and Billy Crystal scene to which I'm referring, go forth and watch When Harry Met Sally right now. Go! Fun fact: You may also recognize the eatery from Law & Order, Enchanted, Donnie Brasco, We Own the Night, and Across the Universe. (Oh, and this Apartment Therapy wedding.)
9. The Double R Diner from Twin Peaks
In the quaint Snoqualmie Valley in Washington state, there sits a charming diner called Twede's Cafe. Inside, patrons happily down damn fine cups o' coffee and slices of cherry pie. That's right—Twede's is the real-life alter-ego of the Double R Diner from Twin Peaks. A fire in 2000 ravaged the original interior, but the exterior is as distinctive as ever—as is the coffee and the Twin Peaks' cherry pie.
10. The Swan-Filled Swamp (and Everything Else) from The Notebook
Pick a scene, any scene... chances are, whatever your favorite scene is from The Notebook, it was filmed here in my city of Charleston, South Carolina. Yes, that includes the dreamy scene when Noah takes Allie to feed the swans—that's Cypress Gardens, where boat rentals really are a thing. The Hamiltons' beach house is actually a storied plantation called Boone Hall, and Allie attended the College of Charleston. She and Noah also ate ice cream in the Old Village of Mt. Pleasant, and they danced in the middle of King Street.
11. The Baseball Diamond from Field of Dreams
The Field of Dreams isn't in Heaven — it's in Iowa. The rural town of Dyersville, to be exact, situated on the century-old Lansing family farm. The house? As recognizable and ever. And the field? Well, Kevin Costner doesn't hang around anymore, but the field is still flanked by corn and remains a beloved tourist destination open to the public.
12. The Cherry Street Inn from Groundhog Day
Remember the charming bed and breakfast in the classic Bill Murray movie Groundhog Day—the one Murray's character woke up in for mornings on end, seemingly destined to repeat the same day forever? In a way, time really has stood still since that sweet little B&B has kept its doors open all these years. Located in Woodstock, Illinois, the Royal Victorian Manor even celebrates Groundhog Day every year with a week full of Groundhog Day-inspired events and activities.
13. Top Notch from Dazed & Confused
Alright, alright, alright! Fans of Matthew McConaughey's 1993 cult classic Dazed & Confused can grab a burger at the same diner that served as a teen hangout for his rowdy character, David Wooderson. Located at 7525 Burnet Road in Austin, Texas, Top Notch served as the backdrop for the scene when Wooderson first spread the word about the Moontower party.
(Image credit: Coldwell Banker)
14. The McCallister House from Home Alone
Now a private residence (purchased for a solid $1.5 million in 2012, no less), the distinguished McCallister household Kevin booby-trapped against the Wet Bandits in Home Alone is not open to the public. And while the new owners probably aren't crazy about people creeping by their driveway to catch a glimpse, no police reports have been filed yet. However, since the house is blurred out on Google Maps, it may only be a matter of time.
15. The Whistlestop Cafe from Fried Green Tomatoes
Thankfully, you won't find any of Big George and Sipsey's, ahem, special BBQ ("The secret's in the sauce!") on the menu at The Whistlestop Cafe. Don't get me wrong—you can get a plate full of lip-smacking BBQ, but the ingredients have been altered accordingly. You can also naturally get fried green tomatoes served just about any way you'd like 'em at this precious restaurant in Juliette, Georgia. I think Idgie and Ruth would approve, don't y'all?
16. Platform 9 3/4 from Harry Potter
One of the most memorable sites mentioned in the Harry Potter books and movies is Platform 9 3/4, because it is where he first crossed over into the magical realm "at a bit of a run." Today, there is a placard on the wall indicating the magical stop, along with a luggage cart like Harry's created to help Potterheads capture the perfect Hogwarts photo opp. Find out about a dozen more real-life Harry Potter locations here.
17. Mystic Pizza from Mystic Pizza
True story: for two years, I lived in a tiny apartment on the Mystic River only two blocks down from the actual Mystic Pizza in Mystic, Connecticut. And although Julia Roberts, Lili Taylor, and Annabeth Gish were most definitely never our waitresses, behind-the-scenes pics of the movies stars were all over the place. As for the pizza, it really is a slice of heaven.
Apartment Therapy supports our readers with carefully chosen product recommendations to improve life at home. You support us through our independently chosen links, many of which earn us a commission.