What to Think About When Setting Up Your Living Room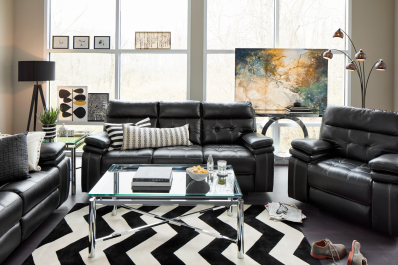 From 1-bedroom apartments to larger houses, the living room sets the tone for the rest of the home. It should be calming for ourselves and our housemates, as well as any visitors we invite in; it should be equal parts comfort and style. With the right pieces, like those available at American Signature Furniture, our houses become homes.
So, what should we consider to truly personalize our main living spaces?
1. Its Intended Purpose
Ask yourself some basic questions: Do you enjoy having guests over? Do you read or study in the living room? Are you a big TV watcher? These are things to consider when planning the traffic flow of your room. For example, if you hope to entertain more and you have the space, consider a setup with multiple seating areas or a corner couch. On the other hand, if your living room doubles as a study, make its anchor the place where you're most likely to stay focused.
Keeping these answers at the basis of all the layout choices you make is how to make a room become more than the sum of its parts.
2. Your Budget
As with all home projects, it's important to set a budget before you start. Even if you're ultimately looking to redecorate your entire home on a tight budget, take on one room at a time, which for many will be the living room. The most expensive piece — but also the most formative — will likely be the sofa. Check out American Signature Furniture's Ultimate Comfort line of sectionals and sofas for a range of cozy styles in a neutral color palette.
3. Your Personal Style
Giving your living room a personal style isn't as hard as you may think. For some, this comes naturally. But if you're not among them, here's how to get started: Start with a strong foundation, meaning strong lines and bold shape — like an oatmeal-colored Robertson sofa from American Signature Furniture (pictured above). Classic, versatile pieces will keep the room comfortable and up-to-date.
Once you've set your base, play it up with contrasting elements: a few pops of bold color or artwork. If this overwhelms you, think about creating one focal point — a singular object, an unusual shape, a stark mix of texture or color — that makes even quiet spaces come alive.
Get Inspired! Visit American Signature Furniture for inspiration, tips, and great furniture options.

This post is sponsored by American Signature Furniture.
Thank you for supporting the brands that make Apartment Therapy possible.