A Cozy & Collected Sacramento Home That Mixes High & Low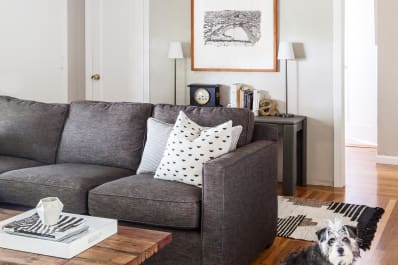 (Image credit: Submitted by Amy)
Name: Amy
Location: North Land Park —Sacramento, California
I recently moved into a 1948 ranch style home located in North Land Park (Sacramento, CA) of approximately 906 square feet, plus an office (renting). Thankfully the bones are great and because of my busy work life, I wanted the interior decor to feel neat yet relaxed and even subdued. Out of choice and necessity, I always prefer to mix high(ish)/medium/low/DIY and heirloom pieces together.
(Image credit: Submitted by Amy)
I have the cutest dedicated dining nook with beautiful morning light where I installed a classic Nelson Saucer pendant over an IKEA DOCKSTA dining table paired with vintage original No.B9 Le Corbusier Thonet armchairs. For my living room, I chose a chunky 'workhorse' of a sectional sofa from Crate & Barrel that I knew would serve my needs better than some of the more fashionable but underperforming sofas I've owned in the past.
Here I built a custom coffee table reclaimed from redwood decking from the house I grew up in. The original table was longer but because of the new sectional, I was able to trim down the dimension of the table and re-attach the hairpin legs to fit. Rugs and accessories are all medium to low (West Elm and IKEA) which has worked well with having a cute terrier puppy in the house.
(Image credit: Submitted by Amy)
(Image credit: Submitted by Amy)
I also poured over old family photos to create a grouping of sweet photos of my grandparents on each side, some of whom I grew up with and others I never met. I went with the Dot & Bo Paddington lounge chair set with a West Elm reading lamp as a cozy place to set by the hearth in colder months.
(Image credit: Submitted by Amy)
For my bedroom, again I went with a neutral palette, more DIY. side tables and simple IKEA bedside light fixtures. The oversized engineer print over the bed was a super fun and free accidental D.I.Y. project. I found a photo of one of my favorite beaches I would frequent while attending college at Humboldt State on the Northern California coast, resized it and when I went to have it printed, they employee just gave it to me because the print job had some imperfections, which actually give it more character in my book. I had the frame and simply did a gold spray out and it was done. I tend to like moving elements around, so as my design moods change, I can relocated the artwork and lighting from my room to my guest room and hit the design re-set button in my primary sleeping space. I'm still settling in here but the goal is to strike a delightful balance between functionality and meaning. I like art and decor that have a backstory and am slowly investing in new heirloom pieces as the budget allows. Because I also work from home, I need my environment to be easy and calm.
Thanks, Amy!
• Interested in sharing your home with Apartment Therapy? Contact the editors through our House Tour & House Call Submission Form.