A Denver Home Mixes Modern & Traditional Style With Surprising DIY Projects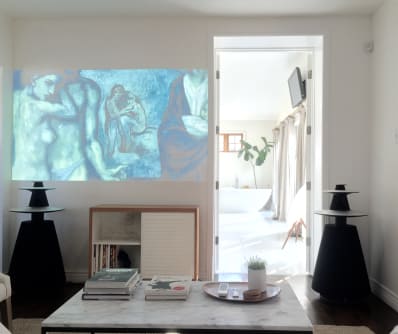 (Image credit: Submitted by Austin )
Name: Austin
Location: Denver, Colorado
I live in Denver on the east side in an up and coming area. My house is a 1400 square foot home with a modern lofty interior. The original house was built in 1925 and was only 500 square feet! When you're home shopping, you tend to see generic houses, one after another. It's enough to make you crazy! When I walked into this place, it instantly felt unique. I had a strong connection, it just lacked a personality.
(Image credit: Submitted by Austin )
I have spent the last few years putting my passion and self into making it a really special place to be. I added the reclaimed wood wall in the kitchen area and the floating tub in my bedroom (since I love baths so much!).
(Image credit: Submitted by Austin )
My master suite is my sanctuary. With three sets of french doors to a private patio, I can really enjoy the amazing weather we get to experience in Colorado. I love timeless design so you will see a mix of modern and traditional/handmade throughout my house.
(Image credit: Submitted by Austin )
I also am quite creative myself. I made the dining room chandelier out of 750 coffee filters and the living room tripod lamp from an old surveyor's tripod!
(Image credit: Submitted by Austin )
I installed a smart lighting system, Bang & Olufsen audio system and a smart projector which displays my favorite art on the wall. It really makes the house come alive! I am so proud to come home every day to this amazing space. I feel so fortunate and love to share it with all of those I care so much for in my life.
Thanks, Austin!
• Interested in sharing your home with Apartment Therapy? Contact the editors through our House Tour & House Call Submission Form.