A Well-Designed Day in San Antonio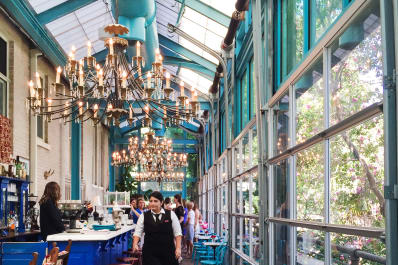 Since moving to San Antonio's Southtown neighborhood in 2015, Hannah Lynn has made it her mission to show what an incredibly colorful, rich place the Alamo City is. She writes: "My personal blog shares my 365 day staycation experience in San Antonio and all the places that make it a great place to love. That was a typo, but love is more accurate than live."
Hannah continues: "I am just about to come up on my one year anniversary of living in the Blue Star Arts Complex in San Antonio. Rubbing shoulders with the King William Historic District in funky Southtown, it was the perfect neighborhood choice for a design lover."
Hannah is currently spending her summer working as the social media/blog intern for RATIO, a photography start up and lifestyle brand, and her Instagram feed reinforces her mission of showing off what a rad city San Antonio is. "Once I begin my BFA emphasizing in photography at Southwest School of Art this Fall, I'll be sharing my work on the blog and on Instagram, as well."
---
---
Follow Hannah online:
---
Thanks, Hannah!