A Really Slow, Hard Week For Rebekah & Graeme's Kitchen Project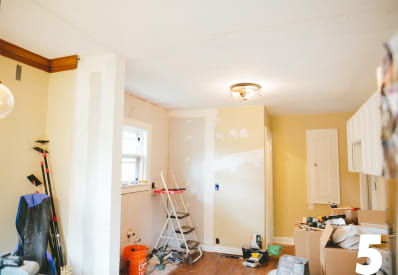 (Image credit: Rebekah & Graeme)
Name: Graeme & Rebekah Molloy
Type of Project: Kitchen Remodel
Location: Chautauqua Park, Des Moines, Iowa
Type of building: 1920 Tudor
The Renovation Diaries are a collaboration with our community in which we feature your step by step renovation progress and provide monetary support towards getting it done in style. See all of our Reno Diaries here.
Rebekah and Graeme are now totally in the thick of their kitchen reno. A bit of the original excitement has worn off, take out is getting tiring and construction woes have set in, but it's not all doom and gloom! Things are really starting to shape up and you can see their dream kitchen coming together.
From Rebekah:
This was a hard week, honestly. There wasn't a lot of communication between the contractor and ourselves and this week was slow going at first and we didn't know why! I think when you are in the middle of a kitchen reno, time just crawls by. We are already sick of take out food (oh no) and the dust. OH THE DUST. And there was a lot of troubleshooting various problems:
(Image credit: Rebekah & Graeme)
After laying the hardwood in the kitchen and dining room, it turns out there wasn't any way to tie the two rooms together because of how they were installed. Essentially, they would have to tear up the whole room to have made this work and that was SO not an option. We decided to use the same wood and run it in the opposite direction and give it a dark stain to make it stand out a bit. I'm not going to lie...we are pretty bummed about this. But hey, in the end hopefully it turns into a "there but not there" moment? We will see!
(Image credit: Rebekah & Graeme)
Apparently our walls are incredibly uneven and sloped between the two rooms making for quite the challenge to hang cabinets. Once again, I'm so thankful we aren't trying to do this ourselves! But at the end of this week, we had all of our upper cabinets in place. That is just so exciting. I have zero clue what to fill all of these beauties with — but I will CLEARLY find a way! I also can't wait to get the bottom cabinets in next week AND get our appliance delivery! Hooray!
(Image credit: Rebekah & Graeme)
(Image credit: Rebekah & Graeme)
One of the difficulties was finding a better place for the refrigerator. We came up with the idea of putting up a piece of plywood to the close up an open doorway leading to the front door. It gave us more wall space to work with Plus, with such a thin barrier we were able to tuck the fridge back a few more inches than we originally thought! I was worried with how much it might stick out, so we are thrilled with how she sits in there so nicely!
(Image credit: Rebekah & Graeme)
This is the other side of the wall where the fridge is now. I thought I would be a bit bothered by this doorway being closed...but it honestly feels like it could have been this way all along! I'm mulling around what to do with the walls here (a fun wallpaper perhaps??)
Estimated time for project: 3 weeks
Time remaining: 2 weeks
Percent done: 25%