An Apartment in an Old Manhattan Bathtub Factory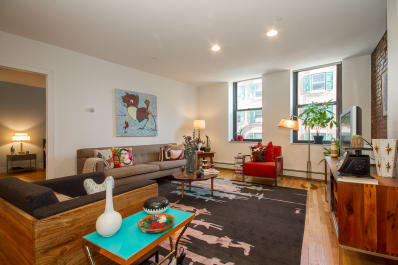 (Image credit: Submitted by Jordana )
Name: Jordana and Bernard
Location: South Street Seaport — Manhattan, New York
My husband, tuxedo cat and I live in a 100+ year old brick building that was once a bathtub manufacturing company and a sewing factory. Such amazing history and detail line our expansive 1,300 square foot apartment at the South Street Seaport, a historic neighborhood in lower Manhattan. After circling the area for several years, we finally took the plunge and purchased an apartment - the charm and history, so many cute restaurants, entertainment and shops, made it irresistible.
(Image credit: Submitted by Jordana )
We use our apartment as a one bedroom with a large separate dining room, but can be easily converted into a three bedroom. It's spacious and open concept, which provides a lot of liberty when decorating. Our style is a combination of mid-century and industrial. Many of our pieces were procured at flea markets across NYC as well as art commissioned from a few of our favorite artists.
(Image credit: Submitted by Jordana )
Our inspiration is color - we love how it transforms a space. We have a few rugs that really tie the rooms together and define the areas we enjoy. The brick-lined living room and cozy dining room that houses a handmade table and one of our favorite paintings by a Brazilian artist, Clara Fialho are a couple of our favorite spaces. We love keeping lots of plants in our apartment to add even more life and freshness to it.
(Image credit: Submitted by Jordana )
When we lived in Dumbo, we discovered an amazing local furniture maker, Mark Jupiter. We knew one day we would commission him to make a dining room table for us when we had the space. Our dining room table was created about a year ago and truly makes our dining room whole. The reclaimed redwood from old NYC water tanks makes the table truly memorable, and by far, our favorite piece in the apartment. We also use the space to run our real estate company, Blooming Sky.
(Image credit: Submitted by Jordana )
We hope you enjoy our home and if you live in NYC, make sure to check out the neighborhood.
Thanks, Jordana and Bernard !
• Interested in sharing your home with Apartment Therapy? Contact the editors through our House Tour & House Call Submission Form.