Anna's "Accidentally Minimalist" Chicago Apartment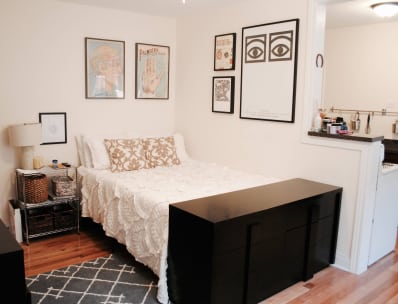 (Image credit: Submitted by Anna )
Name: Anna
Location: Lakeview — Chicago, Illinois
I live in a small studio apartment (350 square feet) in the Lakeview neighborhood of Chicago. I'm actually right on the border between Lakeview and Lincoln park, which is a popular location for 20-somethings who have recently moved to the city (I'm 25) which is nice because all of my friends live a few blocks away. I love my neighborhood for that reason - anytime I'm out and about I could run into someone I know, which makes this big city seem more like home.
(Image credit: Submitted by Anna )
(Image credit: Submitted by Anna )
The building I live in is really old (1920s maybe?) but the unit was recently gutted and has brand new hardwood floors and an updated kitchen and bath. I'd say my apartment is "accidentally minimalist" in that before moving into this space I aggressively got rid of a lot of my stuff (thanks Kon Mari!) and wanted to start fresh with this space. My favorite area of my apartment is the media center/entryway table, since it serves so many different purposes; it's where I throw my mail and keys every day, where I play music and watch TV, and is an overall great piece for organization and storage in this tiny apartment!
(Image credit: Submitted by Anna )
(Image credit: Submitted by Anna )
I also love my kitchen. When I first toured the place I didn't notice that the kitchen doesn't have any drawers (?!?!) so finding storage solutions for that was a fun problem to tackle. My inspiration comes from spending too much time on Pinterest and Apartment Therapy, as well as staking people on Instagram. I work in social media, so I love finding real life examples of styles so I know they're practical and livable. I'd describe my overall interior decorating style as minimalist and earthy. I prefer soft grays, tans, whites and blues with added wood textures and plants to make the space feel more warm and inviting. This is my first apartment that I have decorated to reflect my personality, and I'm so proud of it!
Thanks, Anna!
• Interested in sharing your home with Apartment Therapy? Contact the editors through our House Tour & House Call Submission Form.