AT Book Alert: Update on Todd and Nicole's Project Precita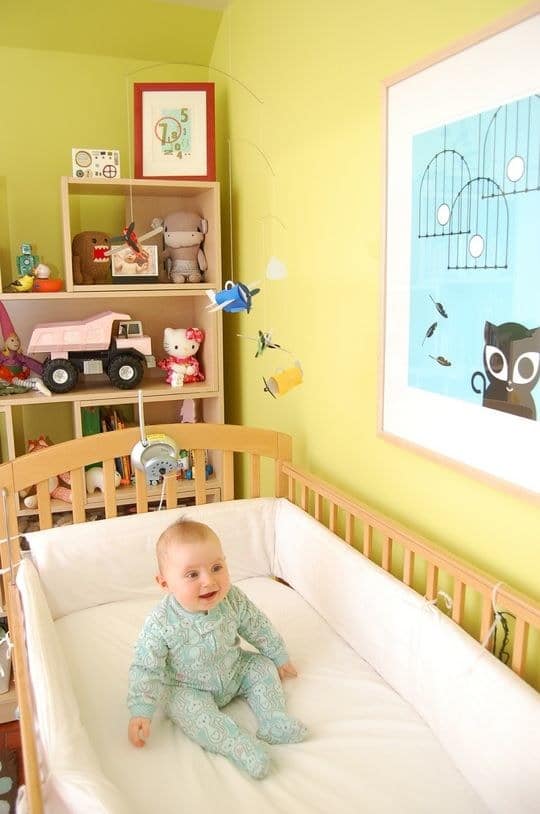 Name: Todd and Nicole
Home Then: 1800 sq. ft. home, Bernal Heights, San Francisco
Home Now: Same home but with one big change
Todd and Nicole's home is one of the 40 featured in our new book: Apartment Therapy Presents: Real Homes, Real People, Hundreds of Design Solutions
.

We first saw Todd and Nicole's stunning house when AT Co-Founder Oliver Ryan spotted their photos online, soon after we launched AT:SF. Theirs was one of our very first House Tours. The response was amazing, and it's always remained one of our most popular tours. We asked them for an update...
Todd says:
It's been about a year and a half since our house was featured on Apartment Therapy, and since then there's been one major change to our household: our baby daughter, Miel!
Adapting the house to prepare for Miel's arrival was a complex undertaking, because the pathway to the baby's nursery snaked through the garage.
Not literally; The baby's room is on the second level of the house, across from the master bedroom. But before the baby arrived, I'd been using that room as my study. But to move my study, I first had to clear out our third bedroom, which we'd been using for storage. But to clear out the third bedroom, I had to create a storage system for the garage.
So to prepare for fatherhood, I started in the garage. I began by erecting steel storage racks along the garage wall to hold all of our archived files and books. With the leftover space, I also built an inexpensive but highly functional workbench area, using a combination of parts from Ikea and the Global Industrial catalog. It took a few weekends -- and a big garage sale -- but eventually we brought order to the chaos.
That enabled me to relocate my study to the spare bedroom. It's a small space on the ground level of Project Precita, on the other side of the wall from the garage. It's also home to the brick foundation that holds up the front stairs to the house. I covered the opening of the foundation with an old grade-school map of the US, and moved the rest of my existing furniture downstairs. My desk is an old Brown University physics lab table. I store spare office supplies in a row of old metal lockers I bought at a surplus store in the Bay Area, and my office tools live inside a 1950s-era windshield wiper store display that I found at a flea market.
With the baby's room finally cleared out, Nicole took charge. We painted two walls of her room a lime-green color. A friend gave us a hand-me-down crib, which Nicole supplemented with a changing table/ dresser from True Modern, a rug from Angela Adams, and a glider from Room & Board. We found some inexpensive, modular bookshelves at Crate and Barrel, and to give the walls more color we framed a few silkscreen posters we got from Super7 in San Francisco's Japantown.
Miel was born last July, and so far our house has adapted well to its new occupant. She's a happy little girl, but she's also very opinionated, so we'll see what she thinks of her room in the years ahead. For now, however, she seems to like it. The months ahead will be challenging -- Miel is just starting to crawl. And after crawling comes walking. And with walking comes grabby little hands. Uh-oh!
Thanks for the update, Todd and Nicole!
LINKS to Todd and Nicole's home:
• House Tour: Todd and Nicole's Project Precita
• Blogging 7x7: Flight 415
• Close-Up!: Truck Steps Becoming Soap Dishes
• Close-Up!: Lit for Drama
Images: Todd
Apartment Therapy supports our readers with carefully chosen product recommendations to improve life at home. You support us through our independently chosen links, many of which earn us a commission.