Before & After: From '70s Clunker to Classy Credenza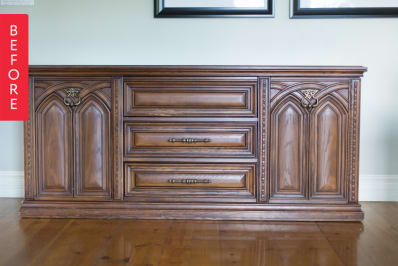 (Image credit: Pati Neufeld Photography )
Sometimes, you've just got to take a chance. When Pati's sister offered her a large and somewhat underwhelming dresser, she was on the fence. Pati decided to go for it, and with some smartly selected paint, turned this dresser into a gorgeous credenza.
(Image credit: Pati Neufeld Photography )
From Pati: My sister bought this on our local Facebook classifieds. She decided while moving, she no longer had room for it. She offered it to me and I was a bit undecided. Not only was it heavy, it needed some work. The finish had seen better days.
I took it home and decided to make the details in it a bit less of a feature by painting it flat black. I lightly sanded it and primed it, then gave it a few coats of black paint. I think it turned out pretty well! I use it daily, so I'm glad I saved it from the trash.
Thank you, Pati!