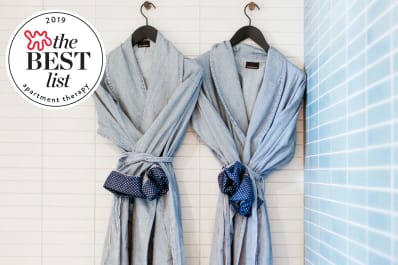 (Image credit: Kayla Snell/Stocksy)
Lounging may see like the height of laziness, but it's also something of an art. In our arsenal of hibernation must-haves are scented candles, warm throw blankets, a good book—and, of course, a super soft bathrobe. These comfy indoor coats aren't just for the bathroom, although there's nothing quite like slipping one on after a long shower. Wear one while you're getting ready for the day, or just throw it on over your loungewear for an extra layer while you go about your business of staying in. No matter your reason or style, we've rounded up our very favorite bathrobes that are sure to transport you from "maybe I'll be productive today" to "I'm never leaving the house again."
Maxwell's Top Pick
Robes are an acquired taste/habit, for sure. Once you begin, however, you never go back. I've received all of mine as gifts over the years, but the Abyss Amigo is, hands down, the best one I've ever had. Heavy at three pounds and made of Egyptian cotton, it is soft, supple and, most importantly, warm on winter mornings. While admittedly not the robe you want for summer, it's awesome during the rest of the year and sits naturally on my body without making me feel like a Michelin Man.
---
LOW-PRICED
A quality robe can be expensive, so it's always nice to find a budget-friendly option that feels as good as it looks. If you're not a fan of the thicker plush robes, this option found on Amazon is a solid alternative: lightweight, short, and made of ultra soft cotton. Sometimes the plusher robes feel like they're getting in the way while you move around, but not so with this one, which is easy to move in and has convenient three-quarter-length sleeves.
---
Another budget option, this 100 percent cotton robe is reliably durable and absorbent. It comes in plenty of colors so if you're not into the classic white robes you'll still find exactly what you're looking for (but if you are, it comes in white too!). It's thick enough to keep you cozy but not too plush that it feels constricting, making it a versatile pick that's good for all seasons.
---
Leave it to L.L. Bean to come up with one of the coziest-looking robes we've seen. This pick is basically a long sweatshirt—in fact, it's made of the same material as L.L. Bean's popular Ultrasoft Sweats. It's a perfect lightweight layer to add to your lounge clothes after you cancel plans to stay in (as if you needed another excuse to stay home).
---
We're already huge fans of Brooklinen's bedding, and their Super-Plush robe is just as impressive. OEKO-TEX certified and made of 100 percent Turkish cotton, it feels much more luxurious than the price would suggest, especially with the piped collar and cuffed edges. Meant to have the same feel as their insanely soft Super-Plush bath towels, this robe is a perfect addition to your bath time routine.
---
One of the most lightweight options we looked at, this robe from Snowe Home is an improvement on the standard waffle fabric. Light and thin but still soft and never scratchy, this is a great pick if you're looking for something low-key and cooler than the typical plush bathrobe. Plus, if you're striving to be more eco-conscious then you'll love that it's 100 percent organic and OEKO-TEX certified.
---
From millennial favorite brand Parachute, this robe had a 2,000-person waitlist after it was released in 2017. It's nothing revolutionary, with two slouchy front pockets and cozy collar, but the comparatively low price point and fast-drying, absorbent fabric makes it worth the hype. Plus, it's OEKO-TEX certified and made of super soft Turkish cotton.
---
Part of West Elm's new Water Street Collection, this waffle-weave robe is a game changer. I've been using this robe for the past few weeks since it came out, and I seriously love it. I like how lightweight it is, especially when just getting out of the shower or moving around getting ready for the day, and the geo print pattern is a lovely touch. Made of 100 percent organic cotton and OEKO-TEX certified, it's a great investment to your loungewear.
---
HIGH-PRICED
This best-selling robe looks great on both men and women, coming in 11 different colors and seven unisex sizes. It's also pretty sophisticated-looking for a bathrobe, with an absorbent terry cloth interior and stylish microfiber shell—proof that a robe can look good without sacrificing practicality.
---
For something totally different, check out this linen robe from Serena & Lily. Linen is touted for its breathability and light weight, making it ideal for warmer climates—although it's definitely cozy enough to be used in cooler temperatures as well. This robe just gets better with age, growing softer with use and regular washing, and comes in two neutral shades.
---
A super cool take on the traditional bathrobe, the Ace Hotel teamed up with Wings + Horns a few years back to create this cozy, casual cross between "an old-style boxing robe—a nod to the Ace NYC building's boxing history—and a modern-day hooded sweatshirt." Made from French terrycloth and sporting a big hood, it's actually owned and well-loved by two members of our team.
---
This double-layered robe is luxurious and versatile—light enough to use all year, but heavy enough to keep you warm. The outside is made with linen herringbone material, while the inside is a super absorbent and cozy micro-loop terry, giving it more of tailored look compared to most robes. It's GOTS-certified organic and comes in three muted colors.
---
Another take on the classic white robe, this luxury option from Matouk boasts a distinctive accent piping and long-staple cotton fabric. It's on the very high end, which is in line with the rest of this legacy brand's offerings, but you'd be hard-pressed to find something this high-quality anywhere else. With monogram options available, this makes a fabulous gift for the self care goddess in your life.
---
Tips on Choosing Between Egyptian and Turkish Cotton
Egyptian cotton is super absorbent, making it perfect for drying yourself off. However, it takes awhile to dry, which could be an issue in humid climates. Turkish cotton, while less absorbent, dries quickly and therefore stays fresh a bit longer.
Egyptian cotton is plush and soft right away, while the tougher Turkish cotton gets softer and better with age. If you're looking to make a long-term investment, Turkish cotton may the way to go.
Bottom line: if you live in a humid climate you should probably go for Turkish cotton, as Egyptian cotton can start to smell funky and grow mildew when not fully dried. If you want something ultra cozy though, nothing can beat Egyptian cotton.
---
---
Our Best Bathrobe Posts:
---
Other Good Resources:
---
This post was originally published on February 26, 2016, and was last updated on February 20, 2019.
Apartment Therapy supports our readers with carefully chosen product recommendations to improve life at home. You support us through our independently chosen links, many of which earn us a commission.