Close-Up: Basement Lounge Makeover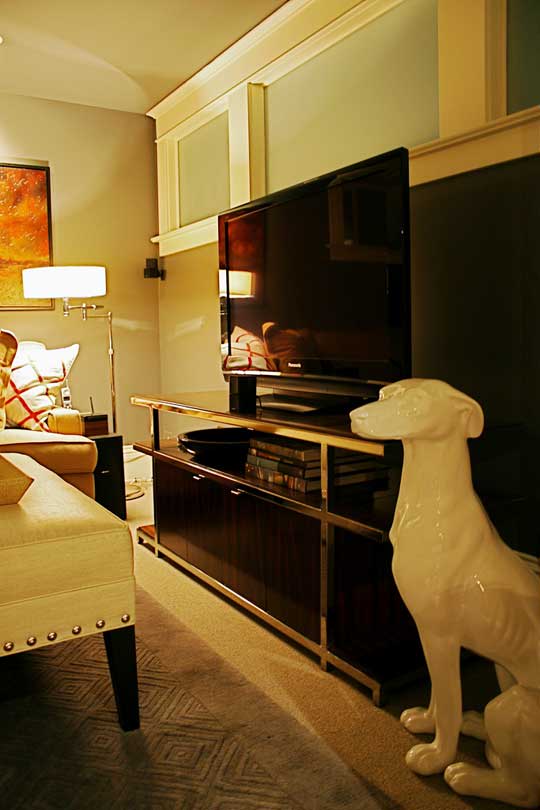 Name: Garrison Hullinger & J Jones II
Location: Portland, OR
Years Lived In: 3.5 years
What's your philosophy on integrating technology into your living space? Hide all wiring!
Over three years ago Garrison and J Jones moved into their 1909 Portland Foursquare Craftsman home. The place got a full makeover by the pair, including their 700 square foot basement, which was turned into a lounge complete with a media center and wet bar. We take a look at what the two did to upgrade their subterranean space.

Do you have a great set-up? Email us snapshots and a brief description.
Here's a before shot of this Portland home's basement.
"The space had sheetrock and carpet and these hideous oversized Rejuvenation lights which hung down into the space," explains Garrison. "So we took all the lights out and put in strategically placed canned lighting. The media area only has three ceiling lights and they're all small lights on gimbals that light up the artwork. There was one supporting column in the middle of the room so we added two partial columns to help frame in the area where the game table would sit."
Favorite Feature: We love how the media cabinet is a piece of furniture that fits the space...the scale is so important so that it doesn't become an eye sore of the room.
What Friends Say: "It's like a lounge" and "The sound is perfect"
Best Advice: Get some advice or different opinions on where to hang the speakers, spend the money on the best wires you can afford. I say to go darker/warmer in these spaces with wall color...it will help absorb the lighting from the TV Panel.
Dream Source/Inspiration: The color and mix of pattern is influenced by David Hicks. The wet bar area is actually an inspiration from a small kitchen space designed by David Netto.
Favorite Source: I enjoy sourcing from my iMac..blogs are my choice of inspiration;

Biggest Challenge: Creating a space where six people could hang out and not feel like their space is compromised. And to create interest in the room but not to where it is a distraction.
Biggest Embarrassment: Garrison is an Interior Designer for Williams-Sonoma Home so he took advantage of his generous discount for the sectional, over-sized ottoman and media console; but he claims it feels a little like he comes home and feels like he's in the showroom.
Nope that's not wallpaper... "Can you believe that is a painted wall? We hired an artist, Lucinda Henry, who has done another room for our house, but this time I put the challenge to her that I wanted the wall to be inspired by David Hicks wallpaper. This all fits in with my Craigslist orange barrel chairs from the 70's."
The game table in front of the wall is all custom made for the space. Jill Torberson made the game table based off a Boris Lacroix Folding Game Table I saw on 1stdibs.com. Then Lucinda Henry came back and created a faux crocodile skin table top for the game table. We had the table base powder coated in International Orange (same color used on the Golden Gate Bridge). The light above the table needed to be minimal so it didn't interrupt the space. The pendant is by Sofie Refer from nova68.com
"In addition we dropped the soffit above the game table area to help define the area and helping to make it a bit more intimate. The new wet bar area was created in a small niche that sits behind the laundry room wall, so we had easy access to water and drainage. We went to the local kitchen cabinet outlet and found the bar cabinets for $400, not sure what the retail price would have been but probably over $1000. We had our contractor build a wine rack between two of the cabinets...we think it all melds very well."
photos: Garrison Hullinger