DC House Tour: Helen Makes it Easy Being Green!
This is from DC finalist, Rachel. Comment away!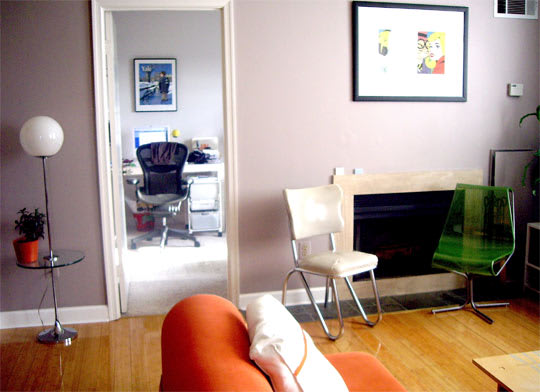 Name: Helen
Occupation: Economist
Location: Washington, DC
Type: 2 bedroom in a Beaux-Arts building circa 1900
Size: 800 sq/ft
Years lived in: Owned for 2.5 years
>>
Over her 6+ years in DC, Helen has filled her home with locally bought
furniture and accessories from her world travels. Helen uses her favorite color green to creatively detail her home without overwhelming it with items like the plastic green elephant watering can...
>>
Truly living the green lifestyle Helen uses energy efficient fixtures and favors recycled accessories including the license plate toilet paper holder (shown) - a great DIY for all the DC transplants who need to register their cars in the District.
AT SURVEY
Style: eclectic, modern
Inspiration: The color green, pop art and the desire to be
minimalist even though I'm far from it.
Favorite: The window views, including a great view of the Washington Monument and local bars.
Biggest Challenge: Putting a lot of stuff into a
limited space without cluttering it.
What Friends Say: This place is a grown-up toy store!
Embarrassment: Trying to use a window shade for the bedroom
closet door - the execution didn't work and is on an angle.
Proudest DIY: Installing the green doorknobs on the bedroom door.
Indulgence: Remodeling the bathroom, which has no window but now gets a lot of light because of the frosted glass door.
Best Advice Given or Received: "Just because the space is there, doesn't mean you have to use it." - from Helen's sister who is a former architect and current art teacher/artist.
Dream Source: Design Within Reach.
>>
RESOURCES
Appliances: Came with the condo.
Furniture:
Tabletop (http://www.tabletopdc.com/),
Millenium
(http://www.millenniumdecorativearts.com/),
Ikea,
Target,
Craigslist,
West Elm,
Rckndy (http://www.rckndy.com/),
The Container Store.
Accessories:
Travel mementos. Many are from Cape Town, South Africa, like the wooden giraffes and stone birds (shown).
Lighting:
Ikea.
Paint:
Benjamin Moore
(http://www.benjaminmoore.com/bmpsweb/portals/bmps.portal?_nfpb=true&_pageLabel=fh_home).
Flooring:
Hard wood came with the condo.

Rugs and Carpets:
Flor (http://www.flor.com/).
Window Treatments:
District Shade Shop Inc.
(http://www.districtshadeshopinc.com/)
Bed:
Temple Slug (http://www.templeslug.com/), an old school futon
shop in Kansas City.
Artwork:
Local DC artists, the NYC Affordable Art Fair, galleries in
Vancouver, Canada and last year's first ever DC Art Fair
- Rachel
(Thanks, Rachel!)
>>
Reader Vote: