Green Home: 700 Palms House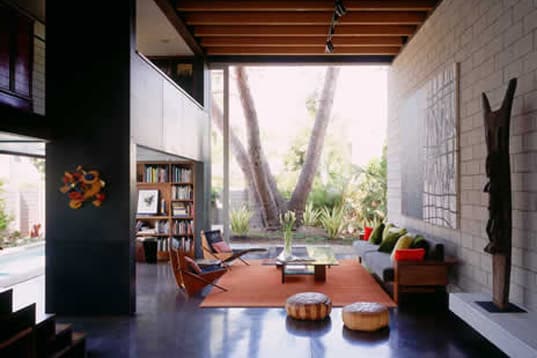 I've seen the outside of this modern house in Venice hundreds of times, basically every time I come home, but with its giant walls I'd never caught a glimpse of the inside until now:
I could have told you that they chose great drought tolerant plants for the exterior, but was intrigued to find out how they worked around a tight floor plan (it's a corner lot and a giant house).
Since it's near the beach, it makes sense that they would use giant sliding doors to let the breeze through rather than rely on central air. They use solar shades (like Debbie and Olivier) to keep the sun's heat from baking the place, and in the winter they have radiant heat in the concrete floors. Most of the house is built using recycled materials like steel and concrete to keep that modern edge, but I was surprised to see how home-y and warm the place feels. Think they'd let me come use their pool?
See the whole photo tour on Inhabitat.