Green Tour: Nord's Straw Bale Home
(Hello again to Jen, who is trying out for a position on the Re-Nest editorial team. Check out her recent post on DIY Sock Potholders and enjoy the tour!)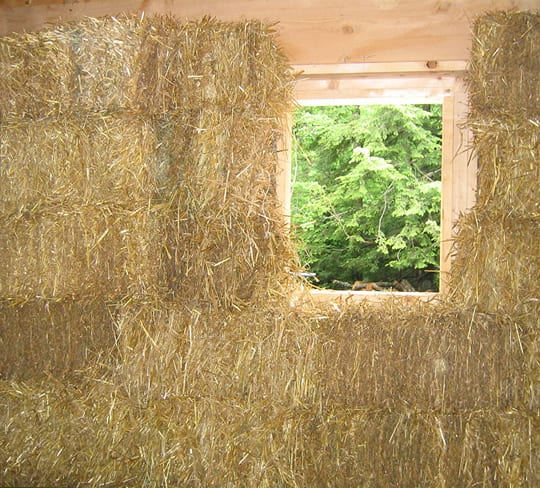 Names: Nord & Margaret, plus Kipling, Lincoln, Skyler, Phineas & Chocolate the dog
Location: Freeport, Maine
Size: 2400 square feet
Type: Straw bale, post and beam
Years lived in: 3
Nord, who lives in Freeport, Maine, has used his furnace twice— once just to make sure the thing still worked. Visitors get a glimpse of the efficient straw bale insulation through a proudly placed "truth" window on the front porch. Pass by it, and you'll find a home that is part rustic reverie and part eco-wonder, thanks to a number of thoughtful, sustainable solutions.
Nord uses a woodstove for heating and for cooking. Burning wood might not be a top eco solution, but the straw is a superb insulator and triple pane windows aid with heat retention. He also built a Trombe wall with stone from the yard and installed a heat exchanger in the kitchen and bathroom. In addition, solar energy is used for the hot water. (It's also powers an "electric" fence, which borders the community garden and keeps out deer.) Add in cellulose insulation and energy-efficient appliances, and you start to understand why friends are jealous of his utility bills.

The house offers up numerous lessons in eco-friendliness but also has down-to-earth ease. Locally sourced pine and maple add warmth, while lime wash, rather than paint, helps ensure the home is toxin-free. Other touches: an open floor plan encourages gatherings and simplifies heating; a custom, built-in drying rack simplifies the dishes, (children are responsible for their own); and breakfast—taken in found antique pews—includes homemade jam from the garden. "My wife and I wanted a home that reflected our values," Nord says, "and that could be a healthy example for our children."
Our Style: Intentional and beautiful
Inspiration: A commitment to living lightly on the earth, the local Maine community, and books such as Bill McKibben's "The End of Nature."
Biggest Challenge: The research…and discussions with bankers
What Friends Say: "Have you ever read 'The Three Little Pigs'?"
Proudest DIY: Installing the straw—we held a small party with neighbors and friends
Biggest Indulgence: The windows, but they're both an indulgence and an investment
Best advice: Build small

Resources:
Heat exchanger: Venmar [www.venmar.ca]
Flooring finish: Osmo [www.osmouk.com]
Lime wash: Sydney Harbour Paints
Windows: Thermotech Windows
Furnace: Monitor Furnace
General contractor: Noah Wentworth/Evergreen Building [For f/c only: 207-632-3064]
Building accessories: Maine Green Building Supply [www.mainegreenbuilding.com]
Thanks to Nord, Margaret, Kipling, Lincoln, Skyler and Phineas, and Chocolate!
-Jen