A Cheerful "Beach-y Modern" 1920s California Bungalow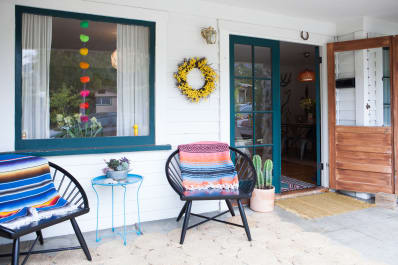 (Image credit: www.saritarelis.com)
Name: Kelsy and Travis Hodge, with their children Elodie (6) and Paloma (1.5)
Location: Santa Barbara, California
Size: 980 square feet
Years lived in: Rented 4.5 years
The bright yellow wreath by the front door and pom pom garland hanging in the picture window are the first hints of the visual treat waiting for us within the Hodge family's 1920s California Bungalow. Inside, their home has a cheery and comfortable vibe. The decor reflects the family's appreciation for handmade and colorful arts, arranged with careful consideration given to creating a calm and organized feel. "Living in a small space requires constant editing," Kelsy explained, " which is a good practice for life, I think."
(Image credit: www.saritarelis.com)
Kelsy and Travis have called their rental in the Bungalow District of Santa Barbara home for over four years. In a town notorious for high rent and higher real estate prices, the house is a real and rare deal that has been passed on by word of mouth from friend to friend over the years. What it lacks in size, it makes up for in charm and location.
Finding a sunroom off the back of the house further sweetened the deal for the family when they made the decision to move in. It offered the perfect place for Kelsy's design studio, at a time when her handmade children's clothing business, Brown Sugar Beach, was just getting off the ground. She knew she wanted to continue working from home with their young and growing family, so having a dedicated studio space in the house sealed the deal. "We'd love to be able to buy the house someday," Kelsy shared, "but for now we're just hanging on as long as we can to stay in Santa Barbara."
(Image credit: www.saritarelis.com)
The design principles that guide Kelsy's modern children's clothing line are strikingly similar to those she applies to her home. Turns out, she has a background in interior design and worked in the field before applying her creativity to children's wear. "I am always exploring the relationship between form and function," Kelsy shared, referring to both her home and clothing line. In designing clothes, she loves color and fun patterns that are easy to wear, durable, and grow with the child. "The same for our house," she says. "Everything should be accessible and comfortable, with nothing too precious to be off limits; I love pieces that can grow with our family through different stages and seasons of life."
Reflecting on her playful yet carefully considered approach to decor, Kelsy acknowledged the influence of surroundings on her mood. "Everything around me really affects how I feel," she shared. "Both Travis and I grew up in homes that were kept very clean and tidy, and that set the bar for us when it comes to home keeping in an organized way," she continued. To this end, they've employed baskets and other stylish storage solutions to wrangle the odds and ends of family life as they cultivate the habits of orderliness, while simultaneously creating an aesthetic that reflects their casual California lifestyle.
(Image credit: www.saritarelis.com)
Apartment Therapy Survey:
Our Style: Beach-y Modern. The house is a California bungalow built in the 1920s so we just kinda go with all of its quirks and charms.
Inspiration: We are inspired by the casual California beach vibe. My husband is an avid surfer and we love to travel whenever we get the chance so we incorporate those elements into our home. Our goal is to create a family home that provides for all of our needs in a comfortable, fun and inviting space.
Favorite Element: The open front room. Having an open space in a small house makes such a big difference. We have room to spread out with whatever is going on; whether kids games, entertaining, or movie night.
Biggest Challenge: Our biggest challenge is also our greatest achievement. We have to be very creative with a relatively small space and are constantly moving things around to keep it fresh and working for our family of four, as well as my business.
What Friends Say: Our friends always comment how things are always changing around here. I secretly love that :) We also often hear how comfortable and friendly our home is. That is something we work hard for—we are both aesthetic people and enjoy having a clean, well-decorated space.
(Image credit: www.saritarelis.com)
Biggest Embarrassment: I would have to say my least favorite thing about the house is the layout in regards to the bathroom. It's what you call a jack and jill, two bedrooms with a bathroom in between. It's fine for a family, but pretty lame for house guests. Santa Barbara is a very temperate climate and so the house has literally zero insulation, meaning that you can hear every single little sound. We lovingly call this house 'the fishbowl' because there is no real privacy.
Proudest DIY: There is a random space in the kitchen where the cabinets end and there is about three feet until the wall. We built the girls a small desk to fill in the hole and I love that they have a little area, just their size, to do artwork while I cook.
Biggest Indulgence: Our mattresses. Man what a big difference a nice mattress makes! You hear it all the time, because it's true. We lived with an old mattress for years and finally saved enough to buy a super nice latex foam one about five years ago. Now we are total converts and recently bought the same mattress for our daughters. We spend a lot of time in their bed and it pays to be comfy.
Best Advice: To make the space work we are constantly editing. Everything that comes in the house serves multiple purposes, and we thoughtfully get rid of things that are not serving us well. Living in a small space requires all areas of the home to be family zones. The girls' bedroom also acts as a guest room by having a double size bed. The dining table is large to also act as homework and art zone. We just push the paper and art supplies to one end and eat dinner at the other end most nights.
Dream Sources: I would love a moving truck, a bag of cash and a Sunday at the Rose Bowl Flea Market. I think Travis would say the same for a Parisian Flea Market.
(Image credit: www.saritarelis.com)
Thanks, Kelsy and Travis!
---