Mary MacGill's Minimal, Bright Jewelry Making Studio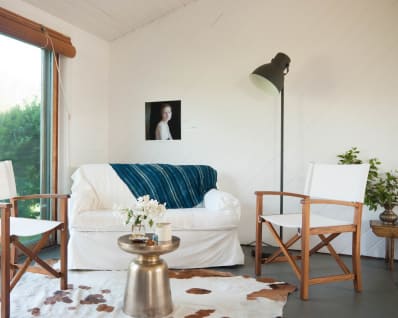 (Image credit: Susan Paulsen)
Name: Mary MacGill
Location: Block Island, Rhode Island
Years lived in: Owned 12 years
Mary MacGill's jewelry is ethereal—semi-precious stones in subtle colors mix with structured metal like gold. It's hard not to see that aesthetic mirrored in the studio she creates her work in, in Block Island, Rhode Island. Elegant minimalism, bright white, natural textures and rich materials make this a calming and creative space.
(Image credit: Susan Paulsen)
Surrounded by stunning natural views, this room was actually used as a bunkroom for the first nine years. It's been Mary's studio space for the past three years.
(Image credit: Susan Paulsen)
Apartment Therapy Survey:
My Style: Minimal but cozy, object oriented, warm and light.
Inspiration: For a coastal vibe I looked at Joseph Esherick's Sea Ranch houses, all of the interiors that Serena Mitnik Miller has touched, Georgia O'Keefe's Ghost Ranch, and my mother is a constant source of inspiration.
Favorite Element: The workflow of the room. There's always few of us in here at a time and there are enough corners for us all to carve out a nice spot to make jewelry, pack orders, photograph, or work on the computer.
Biggest Challenge: Clearing out the room! The space had become a bit of a receptacle for lost or unwanted furniture. So we really had to take the leap to clear it out, save only the things we really loved, give others away, and start anew.
What Friends Say: They want to stay and hang out! Take a nap after the beach, read a book on the couch, thumb through stones.
(Image credit: Susan Paulsen)
Biggest Embarrassment: Cords – we use tools to make jewelry etc., so there are cords EVERYWHERE. It drives me nuts, but we do our best to hide them.
Proudest DIY: The tables in the center of the room were old German beer hall tables painted with thick coats of dingy yellow paint—there was plenty of gum stuck to the bottom of them too. My boyfriend, Chris, sanded and refinished the tops for about three days and I repainted the legs.
Biggest Indulgence: The bedspreads—they're beautiful white on white patchwork. I bartered with my friend D. Bryant Archie for the gorgeous pillows, the rest was either refurbished, picked up at Brimfield or extremely reasonable.
Best Advice: Make a plan—this was the first time I have ever re-done a room all it once and it was really helpful to make a drawing ahead of time as well as a spreadsheet of all the pieces I wanted comparing sources and pricing.
Dream Sources: I participate in a fair upstate in the fall called Field + Supply where the most amazing designers are assembled and I have a long dream list - BDDW, Sawkille, Workstead, Asher Israelow, D. Bryant Archie textiles, Fern, Natalie Weinberger Ceramics, Moran Woodworked
(Image credit: Susan Paulsen)
Thanks, Mary!
---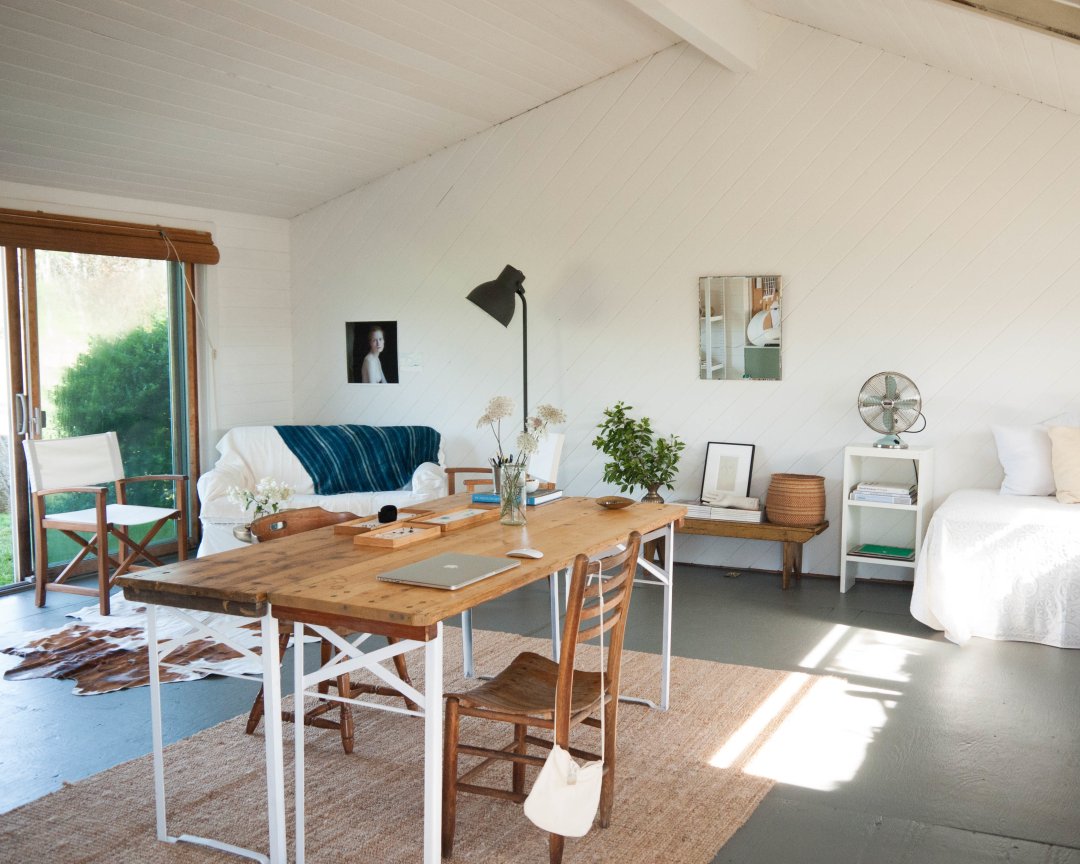 ---
Apartment Therapy supports our readers with carefully chosen product recommendations to improve life at home. You support us through our independently chosen links, many of which earn us a commission.