A Sustainable Cozy Modern Home Nestled in the Trees
Name: Maria Rusafova and Jakub Markulis
Location: Asheville, North Carolina
Size: 1,400 square feet
Years lived in: 11 years, own
Though Maria and Jakub's house is situated in a dense neighborhood, it often goes undetected — a mark of success for the architects who designed the house with the goal of integrating the structure as peacefully as possible into the urban forest. In fact, not a single tree on the property was disturbed. Determining the best shape for the footprint of the house and positioning it on the site was one of the couple's greatest challenges, but also the most worthwhile as the trees are now beautiful features of their home.
The other challenge was to find ways to build the home on a budget, which meant constructing much of the interior themselves, all the while living in an in-progress house with two small children. It took about six years to finish the house and it wasn't easy (they lived with a makeshift sink on a sawhorse in the kitchen in the very beginning), but by largely using sustainable materials, the house should last many years. And so should the trees—still alive and happy 15 years later—thriving on water that is directed to their roots from the roof's unique design. Most of the furnishings and some of the built-in storage systems are from IKEA, and they are also holding up well over the years. So, now that they are through the design and construction phases, when asked if there's anything else left to do on the house, Maria responds with a very enthusiastic "No! It's done!"
The open concept floor plan fits their family lifestyle well. Maria explains that there aren't many opportunities to "escape" from one another, but that's how they like it. Just about all activities occur in the open space in front of the 17-foot high focal window whether doing homework, playing games, or just relaxing in one of the bean bag chairs with a snack to attend nature's ever-changing, seasonal performances on the wooded stage.
Apartment Therapy Survey:
Our Style: Cozy Modernism
Inspiration: We find inspiration in nature, natural materials and the ever changing qualities of natural light. We are inspired by clear design concepts that are executed well to the end. We respond to spaces that tell a story and reflect local context in unique ways. In this respect, travel is a never ending source of inspiration for us.
Favorite Element: Jakub — the stair and the cable railings. Maria — the view of the urban forest from the big window and the fact that we have a giant poplar going through the entry deck. We live in a dense neighborhood but the energy of the urban forest around us makes our home a special place.
Biggest Challenge: Because we constructed all the interiors ourselves while living with two small children, we remember everything being a challenge. Simple tasks took a long time to accomplish and we had to redo some things a few times until we got them right. If we have to pick one challenge that stands out though, it has to be assembling the eight-foot high Home Depot storage cabinets in an upright position and figuring out how to make the two-level storage wall look good on a DIY, tight budget.
What Friends Say: Friends are amazed by the size of the large window and the view. They always think that our house is bigger than it actually is and that we have very few possessions as most of our stuff is hidden from view.
Biggest Embarrassment: Using the wrong glue when tiling the shower. All the mosaic floor tiles unglued after a few months.
Proudest DIY: Finishing the interiors was a string of proud DIY moments. We can't choose between installing the walnut flooring upstairs, putting the stair and the railings together, constructing the cabinet wall, and sewing the giant linen curtain — all done ourselves.
Biggest Indulgence: Jakub — The tripod floor lamp and the stainless steel counter top. Maria — In the winter, it is the wood stove; in the summer, it is the upstairs patio.
Best Advice: Jakub says, "Do not pay the cabinet maker before he finishes the job." Maria says, "Be patient, be flexible, and let your home evolve with time."
Dream Sources: Good old Ikea paired with whatever random unique finds we stumble upon.
---
Explore this style: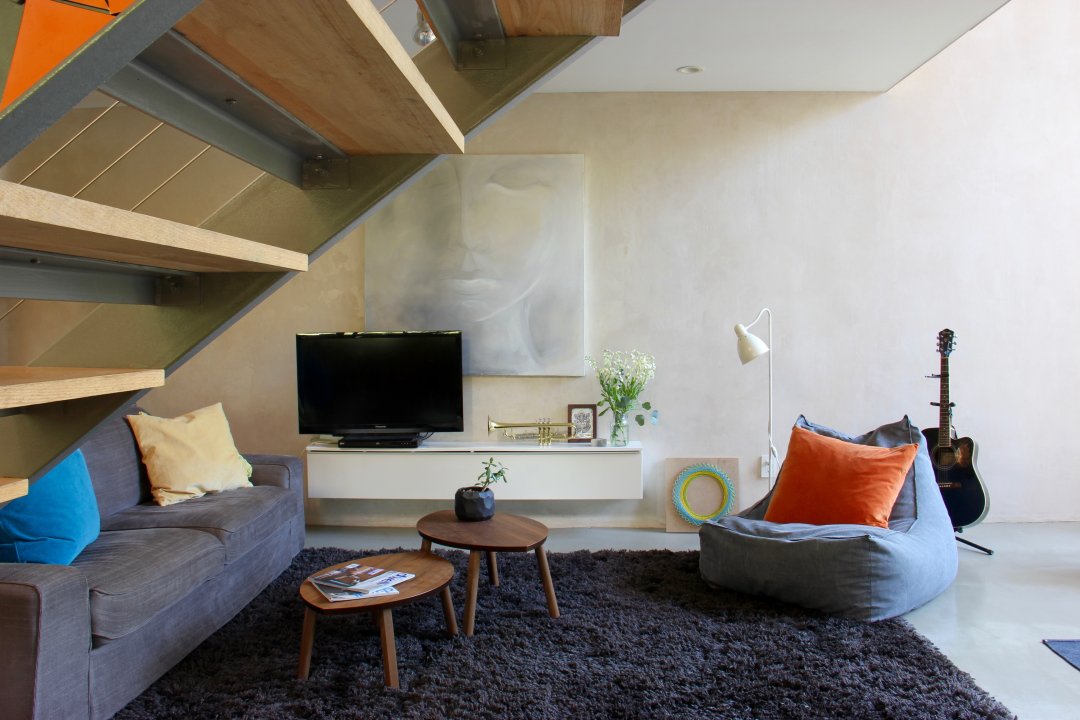 ---
---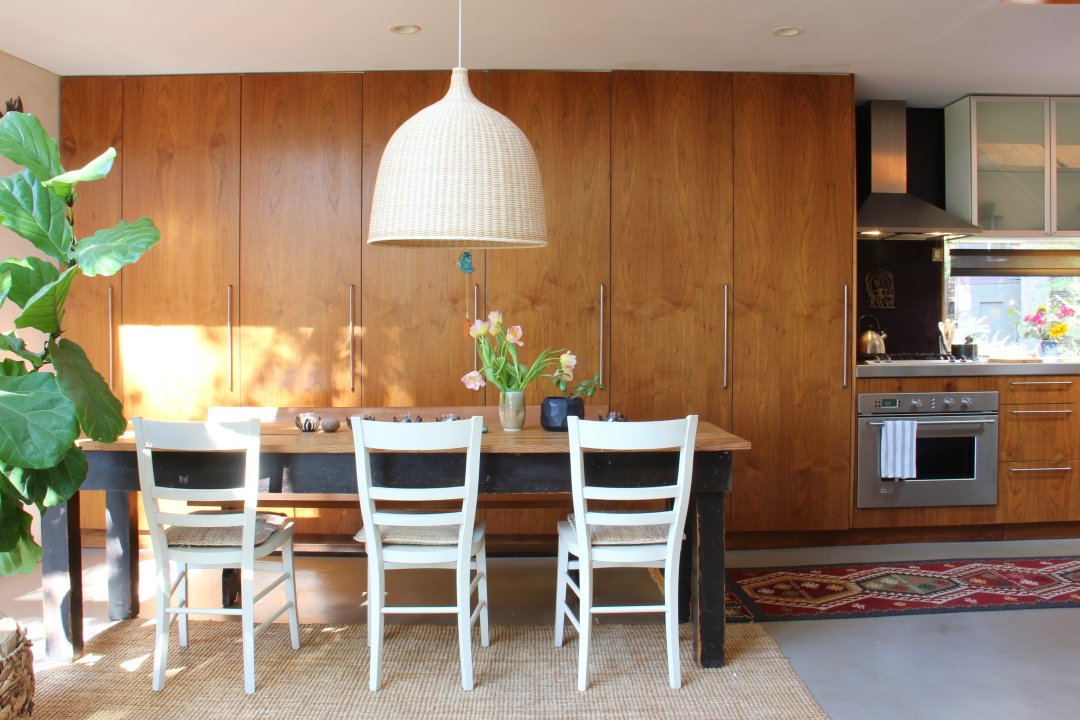 ---
More resources:
PAINTS & COLORS
Sheetrock — Snowbound by Sherwin Williams
Stucco — Natural Plaster from AAC
LIVING ROOM
Sofa — IKEA
Stockholm Nestling Tables — IKEA
Atlas Ceiling Lights — yLighting.com
Tripod Lamp — Design Public
Bean Bag Chairs – RH Teen
Pillows – IKEA and World Market
Media Storage — IKEA
Gaser Carpet — IKEA
Wall Shelves — local furniture store
Floor Lamp — IKEA
DINING ROOM
Wood Chairs — Target
Dining Table — Antique Barn
Church Pew Bench - Antique Barn
Pendant – IKEA
Floor Lamp —yLighting
Rug –IKEA
Jotul Fire Stove
KITCHEN
Countertop — Custom made stainless steel from a local manufacturer
Sink Faucet — IKEA
Base cabinets — Custom made Walnut plywood doors on Home depot cabinets
Wall cabinets — IKEA
Oven — Convection oven from Monogram
Cooktop — Gaggenau
Hardware — IKEA
Solar Window Shade — Shades Shutters Blinds
Rugs — World Market
MASTER BEDROOM
Bed with Side Tables — IKEA
Bedding — IKEA
Light —IKEA
Desk Chair — Target
Wall Shelves — IKEA
LOFT
Full Bed — IKEA
Pillows — OUTRA
Storage Cabinets — IKEA
Paneling — Custom Walnut Plywood
Carpet — World Market
Office Chair — IKEA
KIDS ROOM
Bunk Bed — IKEA
Desks — IKEA
Desk Lamp — IKEA
World map — IKEA
Rug — IKEA
Curtain — DIY linen curtain
Bedding — IKEA
BATHROOM
Bathroom Sink — Duravit
Table — Antique
PATIO
Outdoor Furniture — IKEA
"Coral Coast" Outdoor planters — HayNeedle.com
Thanks, Maria and Jakub!
---
Apartment Therapy supports our readers with carefully chosen product recommendations to improve life at home. You support us through our independently chosen links, many of which earn us a commission.