How One Fashion Designer Made the Most of Low Ceilings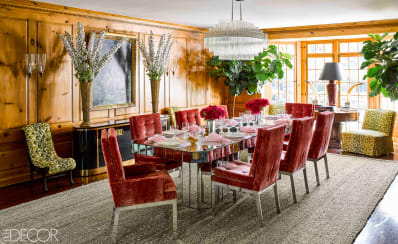 (Image credit: Douglas Friedman courtesy Elle Decor)
The Long Island home of fashion designer Victoria Swanson Beard is, by all accounts, gorgeous (it is on the October cover of Elle Decor for a reason). While the 1865 farmhouse has been completely redone, Swanson Beard still suffers a problem that plagues many—low ceilings. Here are three ways she makes it work that you can use, too.
1. Add height in other ways
In the dining room (pictured above), Swanson Beard doesn't shy away from tall items. The sideboard features tall vases with tall flowers, and there are two trees in the corners. This all brings the eye up, making the most of the space you do have.
(Image credit: Douglas Friedman courtesy Elle Decor)
2. Add interest to the walls
Browsing the article, I didn't notice the low ceilings until Swanson Beard mentioned it herself. "The rooms are large rectangles with low ceilings, and there's not much excitement to them," she tells Elle Decor. Her solution? "Wallpaper provided that surprise element. Each room has an identity now; each is very inviting."
(Image credit: Douglas Friedman courtesy Elle Decor)
3. Embrace the coziness
In the bedrooms, living room, and even a bit in the breakfast nook above, Swanson Beard layers prints and comfy textures that pile on the cozy. "We'd joke that it's granny-chic, sloppy and comfortable," she says. There's no evidence of sloppiness in the photoshoot, but it does exude comfort.
Check out more of the home in the October issue of Elle Decor.