How to Put Your Home to Work This Summer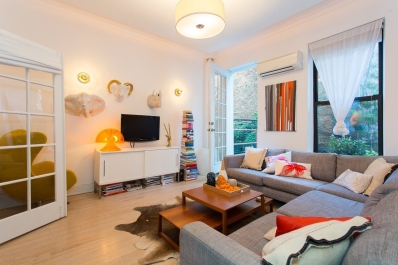 (Image credit: Pablo Enriquez)
Have you ever let your cousin crash at your place for a weekend? Housed a friend for a couple days after a breakup? Given your parents a place to stay for the holidays so they feel more at home? If so, you're ready to be an Airbnb host.
And when you become an Airbnb host, the benefits go beyond the cash. Learning to market your home and welcome travelers will get you some unexpected gains. (And yes, some expected extra cash.) Here are some extra benefits if you have a little space to share.
Extra Income
We all have that special something we're saving up for. Putting your futon or spare room to use can get you a little closer to launching that passion project, be it an entertainment center upgrade, some new kitchen gadgetry, or supplies for the garden.
(Image credit: Kim Lucian)
Host to Travel
Traveling is pricey. If you're going to be out of town, you could be making money while you're gone instead of just spending it. You'll have an easier time relaxing knowing that some of the trip costs will be replenished.
Local Pride
Meet people from around the country and around the globe! Guidebooks can be good, but first-hand experience is great. As you meet people from around, you'll learn about the local haunts from the people who live there the for your own future travels. Remember, you're the resident expert: Show your guests how to live like a local.
(Image credit: Jose Campos & Oliver Herbert)
Show Off!
If you take pride in your home, then show it off by sharing it with others. Give people the chance to experience your signature flair for decorating, or to appreciate the atmosphere you've worked so hard to create. All that effort spent arranging your living space could pay off, literally.
Soften the Bills
Bills and debts dragging you down? As an alternative to a second job, the space you already have can help assuage the monthly bills: a student loan, credit card balances, or even a couple months' utilities.
(Image credit: Leela Cyd)
Fresh Faces
Whether you get a new pen pal, forge a lifelong bond, or just have an amazing conversation with a charming stranger over breakfast, your role as a host will add a whole new dimension to your life.
Be a Better Guest
We tell people to walk a mile in other people's shoes; same goes for sleeping in other people's beds. When you host, you gain a better understanding of what makes a good guest. You learn something about hospitality, quality control, and how to tactfully speak up when something goes wrong.
Extra Credit Assignments
When you become your own Airbnb boss, you'll flex your business and customer service muscles. You'll put your marketing know-how or flair for compelling writing to instant use when you list your home on Airbnb. On the other hand, if you've been looking to pick any of these abilities, then hosting will give you some hands-on experience!
Ready to enjoy the perks of hosting? List your space on Airbnb!
This post is sponsored by Airbnb.
Thank you for supporting the brands that make Apartment Therapy possible.