Jennifer's "Miles Redd Meets Wes Anderson" Home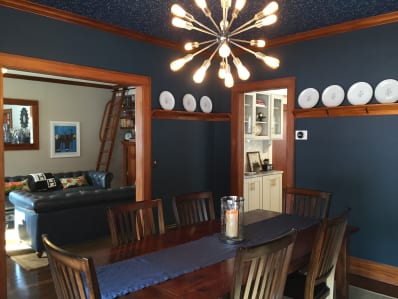 (Image credit: Submitted by Jennifer)
Name: Jennifer
Location: Lincoln, Nebraska
After years of searching for just the right home for our family, we were fortunate to find our 1925 craftsman that had fantastic bones and needed just a bit of love in some of the more neglected spaces.
We completely updated the kitchen, bathrooms, added two full bathrooms, fully finished the 1,800 square foot basement, and added a number of built-ins throughout the house.
The home in total is around 5,000 square feet, but what we like best about it is that from the street it looks like a charming little home. This allowed us to combine our desire for a unique and historical home with character with our need for some of the utility that comes from having modern spaces and ample square footage.
(Image credit: Submitted by Jennifer)
Upon embarking on our renovation of the home, I knew my vision for the space would be a mix of traditional and modern interiors with some fun and funky touches, and a definite mix of high and low. I call it Miles Redd meets Wes Anderson - saturated colors, a few whimsical elements, but definitely grounded in traditional design. Every time I look at our piano room, with its combination of IKEA table, silk emerald green rug, painted upright piano, and leopard upholstered wingbacks, I know we've achieved it.
(Image credit: Submitted by Jennifer)
Since many of the rooms on the main floor of our home ended up being more formal, I wanted to make sure we had at least one space that was totally kid-friendly for our 2.5-year-old daughter. Fortunately, there was an odd little room not much bigger than a closet off the piano room. We later learned this would have likely been used as a telephone room back in the day. Our fabulous contractor constructed a window seat and shelving in the space, and now it functions as a beautiful little reading nook for our daughter.
I'm also especially proud of our kitchen, which is such a light, bright, and happy room. We spend a great deal of time there, so it was important to me that it combine comfort with function, in a supremely beautiful and elegant design.
(Image credit: Submitted by Jennifer)
Our 2" thick quartzite slab on the 10'x3' island looks impressive, and provides more than enough work space for me and my husband. Another favorite perch for our daughter and Murphy, our beagle/lab mix, is the corner banquette we installed in the breakfast area. It's a great spot to read a magazine with a cup of coffee and feel the warm sunlight through the windows.
(Image credit: Submitted by Jennifer)
We enjoy our home so much and are thrilled with how it has come together. I hope you like it as well!
Thanks, Jennifer!
• Interested in sharing your home with Apartment Therapy? Contact the editors through our House Tour & House Call Submission Form.