Jessica Chastain's New York Victorian is Autumnal AF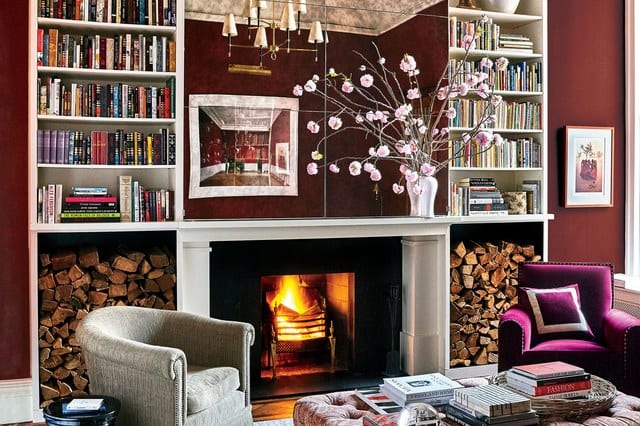 (Image credit: Douglas Friedman)
The supremely talented Jessica Chastain exudes classic glamour on the red carpet, so it's hardly surprising that her home, featured in the October issue of Architectural Digest is stunning, as well. It also happens to tick all of our autumnal style goals in a major way.
Chastain and boyfriend, fashion executive Gian Luca Passi de Preposulo, recently restored the 19th-century apartment near Central Park back to its "warm and cozy glory" with designers Carrier & Company. Let's see what makes the look:
(Image credit: Douglas Friedman)
1. Fireplaces everywhere.
Let's start with the obvious. One thing that definitely ups the warmth and coziness is the multitude of fireplaces, including this one in the entryway. Nothing says fall like tossing a log on the fireplace for the first time. Now that I mentioned it, might as well stack a few logs nearby, like in the library above.
2. Saturated jewel tones.
Darker, deeper colors increase the cozy factor to 11. Warm colors really up the autumn, but blues and greens can have that fall flavor, too.
3. Velvet.
Velvet just makes you want to reach out and touch it. Just try and resist its cozy lure.
(Image credit: Douglas Friedman)
4. Plaid.
Can't you just imagine the most picture perfect Thanksgiving in here, loved ones perched on these plaid dining chairs? They look comfy enough that you won't even need to migrate to the sofa after seconds of turkey.
5. All. Those. Rugs.
Chastain's home mixes new and vintage rugs throughout. It's also a great example of one of our favorite tips: layering smaller, bold rugs over larger, neutral ones.
(Image credit: Douglas Friedman)
6. Fun things for nights in.
When not outside playing in the leaves, apple picking, or enjoying a steaming PSL, you need ways to entertain yourself during the increasingly longer nights. Chastain has this vintage jukebox for (we hope) impromptu dance parties. By firelight, of course.
Check out more of Chastain's space over on Architectural Digest.