Graeme and Rebekah Share All Their Kitchen Budget Hopes & Dreams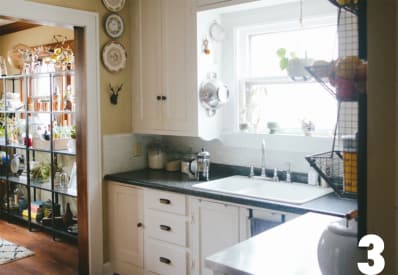 (Image credit: Rebekah & Graeme)
Name: Graeme & Rebekah Molloy
Type of Project: Kitchen Remodel
Location: Chautauqua Park, Des Moines, Iowa
Type of building: 1920 Tudor
The Renovation Diaries are a collaboration with our community in which we feature your step by step renovation progress and provide monetary support towards getting it done in style. See all of our Reno Diaries here.
Now we're going from dreams to details. Here's where Rebekah and Graeme outline their projected budget and timeline.
From Rebekah & Graeme:
We decided to hire a general contractor to help keep our sanity through this! I am taking the lead and DIYing a very small portion of the work. I will be in charge of painting the walls & the open shelving area. We've done quite a bit of the woodwork pieces in our home (including our dining room table) so I feel confident I can tackle the shelving!
We were given a total scope of three weeks for the project. We understand that things won't go completely according to plan and are anticipating about four and a half weeks for everything to be completed.
The first week is dedicated to taking the wall down and gutting the cabinets and sheet rocking and repairing the walls.

The second week is scheduled for installation of new cabinetry, move the gas line and get appliances in and work on electrical. There is also a bit of work re-using the original crown molding to tie the two rooms together seamlessly so this will be completed then.

The final week we will be getting the countertops, tiling the walls, installing hardware, installing the sink and finishing up any loose ends!
BUDGET SPECIFICS

Labor:
Labor for this has been projected at $8,850
Appliances:
We're reusing our refrigerator. Microwave, oven and dishwasher (a dishwasher!!!!) were bought on sale.
Total: $1300
Fixtures:
Kitchen sink: $352
Faucet: $131
Cabinet hardware: $270
Total: $753
Cabinets and Countertops:
Cabinets: $4,800
Countertops:$2,750
Total: $7,550
Finishes:
Tile: $600
Paint: $150
Total: $750
Lighting:
Total: $370
Other Building Materials:
We kept our original flooring and they included electrical and plumbing into the overall labor cost.
Total: 19,573