Hurry Up and Wait: Rebekah & Graeme's Kitchen Remodel Continues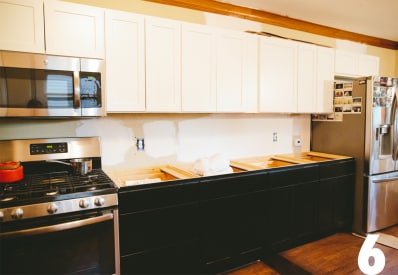 (Image credit: Rebekah & Graeme)
Name: Graeme & Rebekah Molloy
Type of Project: Kitchen Remodel
Location: Chautauqua Park, Des Moines, Iowa
Type of building: 1920 Tudor
The Renovation Diaries are a collaboration with our community in which we feature your step by step renovation progress and provide monetary support towards getting it done in style. See all of our Reno Diaries here.
Graeme and Rebekah have reached the point of their reno where most of the BIG things are in place, and it's time to focus on the smaller details. But occasionally a big thing will pop back up and demand attention...
(Image credit: Rebekah & Graeme)
(Image credit: Rebekah & Graeme)
From Rebekah:
These photos document work done over a two week time frame. The first week I was out of town for work. During that time, the appliances were delivered and cabinetry was finished and installed. I couldn't wait to get back to see it all! It was wonderful being able to use a stove again, and I can't wait for the dishwasher to be hooked up. We haven't used one in about 3 years!!
Unfortunately, this week we found out that the countertops weren't ordered as planned. We had chosen quartz and, since nothing was in the works yet, the wait time will be anywhere from 3-8 weeks. We are talking with a company that can hopefully do this quicker — hopefully closer to a 3 week timeframe! However, this sets us back and our original project timeline is now long gone! I'm glad we never had an actual date set in our minds since it will be well over a month when all is said and done!
Goodness...we cannot wait for this to be complete and really start cooking and living in here!
(Image credit: Rebekah & Graeme)
(Image credit: Rebekah & Graeme)
(Image credit: Rebekah & Graeme)
Estimated time for project: 3 weeks
Time remaining: 1 week
Percent done: 40%