Love Thy Floors: How to Keep Your Hardwood Happy and Healthy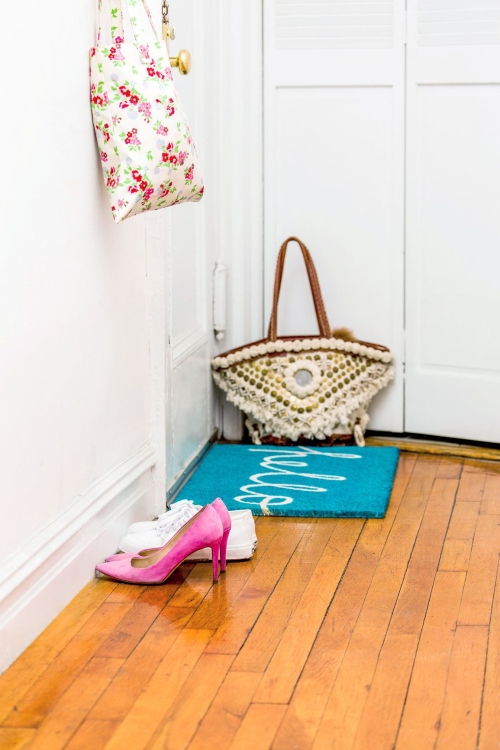 From scooting chairs to high-heeled traffic, having hardwood floors can often mean living in fear of scratches. The truth? Scratches happen. That said, you can keep them to the minimum by switching from defense to offense. We teamed up with Bona® — the final word on cleaning and protecting hardwood floors — to share the only tips you need to keep your boards armored against nicks and knocks.
Start outside. No, we're not telling you to sweep your sidewalk. But surface scratches come from dust and dirt particles that make their way into your home, so clean points of entry (like foyers, garages and patios) extra well. Like we said: offense.
Follow traffic. High-traffic areas need a little more love, so protect them with rugs or mats — uber-stylish ones, of course. Just make sure your coverings play nice with hardwood: Natural rubber rug underlays (the waffled ones) are great, but steer clear of rubber-backed mats, which can lock in moisture.
Don't forget furniture. Heavy furniture is a prime scratch offender, so use fabric pads, felt protectors or glides for smoother furniture-to-floor contact. (Your choice will depend on how much the piece of furniture gets moved around.) And avoid plastic wheeled furniture, which can mar floors.
Kick off your shoes. You might not think of it, but hard, pointy heels — especially high ones, which don't distribute weight evenly — can dig into hardwood floors. You can implement a no-shoe policy (a hot topic on Apartment Therapy!).
Pet pedis! Keep dogs and cats from leaving their marks on floors with regular nail trims.
Clean on the regular. From daily dusting to a monthly deep clean to remove heavy dirt build-up with a great cleanser like Bona® PowerPlus Hardwood Floor Cleaner, a clean floor is a protected floor. Here's the schedule we like to stick to (and here's a handy printable version!):
Dust and spot clean daily
Vacuum and mop weekly
Deep clean and polish monthly
Revive, renew and refinish yearly

A little preventative medicine — and an easy cleaning routine — makes the fight against scratches infinitely easier. Rely on Bona's wide selection of cleaners and hardware to give you a leg up on keeping your hardwood floors beautiful.
Visit Bona online and stock up on all your floor-care essentials