Lovely, Vintage Glass Pendants from Michelle Varian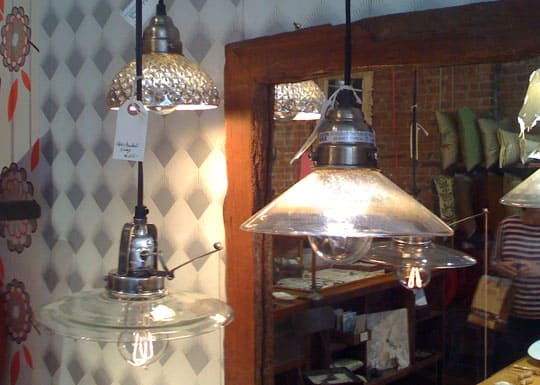 Michelle Varian has a beautiful little store just up the street from our office in which she's been expanding her selection of lighting and accessories for the home. We spotted these new small glass pendants on our last visit, snapped a bunch of pics and made three mental notes at once: These lamps are...
...totally unique (I've never seen them before)...
...Small and practical (and would be great in multiples)...
...Really well priced....
There are a number of styles, but they all share really nice touches like fabric-wrapped cords, mouth blown glass canopies, and plug-in or hard wired versions. I particularly liked the mercury glass Honeycomb pendant and the saucer pendant with the cantilevered arm switch (up top and below). The second of these is not on their website yet, but is available if you call or email.
All of these look best with Edison Bulbs, so if you don't know what these are yet, check out the Edison post below. She also has a really nice "Edison Lamp" on her site, which showcases these bulbs. I'd never seen this before either (bottom). Bookmark this under vintage lighting and pass it on!
>> Michelle Varian
>> Edison Bulbs, Story and Sources - 2.6.08.
>> This Week's Giveaway: Awesome Accessories from Andrianna Shamaris