Mirror, Mirror on the Wall (and the Cabinets, and the Kitchen Island)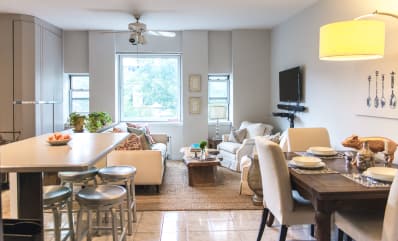 (Image credit: Submitted by Jaclyn)
Name: Jaclyn
Location: Park Slope — Brooklyn, New York
We are a young married couple living in Park Slope Brooklyn, trying to survive in New York, and our one bedroom apartment is absolutely everything to us! For starters, it is 75% MIRRORED... the kitchen cabinets, the kitchen island, the bathroom cabinets, both walls of the bedroom. It's the very first thing people notice and talk about.
(Image credit: Submitted by Jaclyn)
My professional background is in the music industry but I always had an insane passion for interior design, and when I saw this apartment the first thing I thought was how many people would pass on it because of the cold look of mirrors and tile flooring throughout the entire apartment. However, I knew I could make it cozy and feel like home.
Throughout the past three years of living here, the more time I spent in my home with my husband the more I started to realize the importance of having a beautiful home, and having a safe space to unwind at the end of a long day. Last year I decided to quit the music industry completely and start my own Home Staging and Redesign company, Jaclyn Bartlett Co. My first client? Myself. I used my apartment to promote my skills and got such incredible feedback that in less than a year my business is booming and I've never been happier! I want to share my home with the Apartment Therapy readers to show that 1) you can do anything you are passionate about and set your mind to, and 2) don't let a cosmetic flaw like an insane amount of mirrors stop you from creating the home of your dreams.
(Image credit: Submitted by Jaclyn)
My favorite room is my bedroom, where I painted the ceiling navy blue. Because of the mirrors on each long side of the room, the white ceiling made the room feel like it was constantly floating away. So by painting it a dark blue, it grounded the space. My favorite item BY FAR is our vintage wood coffee table that my parents got as a wedding present in the 70s. It's a huge slab of wood that is beyond GORGEOUS and will stay in my family until the end of time.
(Image credit: Submitted by Jaclyn)
My style is transitional and cozy, and my inspiration is everything my mother has collected over the years. As a design enthusiast herself, her collection of tables, chairs, bar carts, buffet tables, etc. has essentially given me a crazy selection of hand-me-down furniture that I put together to make a home. There is so much of her and our family's history in this tiny apartment, and I'm so proud to call it home.
Thanks, Jaclyn!
• Interested in sharing your home with Apartment Therapy? Contact the editors through our House Tour & House Call Submission Form.