Netflix is Bringing Luke's Diner to Your State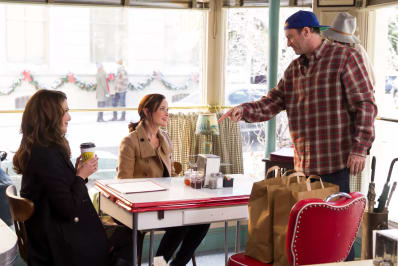 (Image credit: Netflix)
Gilmore Girls fans have been waiting in eager anticipation since Netflix announced their four-episode reboot back in January. But on Wednesday, the streaming service is turning cafés across the country into Luke's Diner — about 250 of them, at least one in every state and a few in Canada.
The pop-ups are happening on October 5, which is the 16th anniversary of the original show's pilot. Netflix is sending each of its partner cafés "Luke's Diner essentials," which include branded tees, aprons, and coffee sleeves.
From 7 am to noon, free 12-ounce coffees and "fun surprises" are on Netflix, but supplies are limited.
(Image credit: Google Maps)
Here are the locations:
Alabama
Crestwood Coffee Co. 5512 Crestwood Blvd., Birmingham, AL 35212
Lucy's Coffee and Tea 2007 University Blvd., Birmingham, AL 35233
The Abbey 131A 41st St S, Birmingham, AL 35222
Satori Coffee House 5460 Old Shell Rd., Mobile, AL 36608
Carpe Diem Coffee & Tea Company 4072 Old Shell Rd., Mobile, AL 36608
Alaska
Kobuk Coffee Co. 504 W 5th Ave., Anchorage, AK 99501
Arizona
Octane Cafe 9107 E Southern Ave., Mesa, AZ 85209
Comoncy 7301 E Indian Plz, Scottsdale, AZ 85251
Ike's Coffee & Tea 100 N Stone Ave., #111, Tucson, AZ 85701
Arkansas
Andina Café & Coffee Roastery 433 E 3rd St., Little Rock, AR 72201
California
Pappy's Coffee Shop 10595 Rosedale Hwy, Bakersfield, CA 93312
Caffeine Supreme 2000 F St., Bakersfield, CA 93301
Yellow Mug Coffee Co. 1137 Champlain Dr., Fresno, CA 93720
Fox Coffee House 437 W Willow St., Long Beach, CA 90806
Comoncy 12265 Ventura Blvd., Studio City, CA 91604
Comoncy 413 N Bedford Dr., Beverly Hills, CA 90210
Hive, the Place to Bee 2139 MacArthur Blvd., Oakland, CA 94602
Awaken Cafe 1429 Broadway, Oakland, CA 94612
Chocolate Fish Coffee 400 P St., #1203, Sacramento, CA 95814
The Trade Coffee & Coworking 2220 K St. Sacramento, CA 95816
Industrial Grind Coffee 3922 Park Blvd., San Diego, CA 92103
Cafe Virtuoso 1616 National Ave., San Diego, CA 92113
Palio Cafe 505 Montgomery St. #1, San Francisco, CA 94111
Caffe Frascati 315 S 1st St., San Jose, CA 95113
Roy's Station Coffee & Tea 197 Jackson St., San Jose, CA 95112
Colorado
Solid Grounds 6504 S Broadway, Centennial, CO 80121
Coffee Place European Cafe 5580 S Parker Rd., Aurora, CO 80015
Story Coffee Company 120 E Bijou St., Colorado Springs, CO 80903
Urban Steam Coffee 1025 S Sierra Madre St., Colorado Springs, CO 80903
Kawa Coffee 2427 N Union Blvd., Colorado Springs, CO 80909
Purple Door Coffee 2962 Welton St., Denver, CO 80205
Connecticut
Metro Cafe 580 Farmington Ave., Hartford, CT 06105
Peter B's Espresso 300 Summit St., Hartford, CT 06106
Delaware
Loma Coffee 239 N Market St., Wilmington, DE 19801
Florida
Brew Urban Cafe 537 NW 1st Ave., Fort Lauderdale, FL 33311
Sip Java Co. 638 N Federal Hwy, Fort Lauderdale, FL 33304
The Flower Bar 1003 E Las Olas Blvd., Fort Lauderdale, FL 33301
Breezy Coffee Shop Café 235 8th Ave. S, Jacksonville Beach, FL 32250
Southern Grounds Coffee 200 1st St., Neptune Beach, FL 32266
Sippers Coffehouse 7643 Gate Parkway, Suite 101, Jacksonville, FL 32256
Chamblin's Uptown Cafe 215 N Laura St., Jacksonville, FL 32256
Coffee Roasting Co 13130 Biscayne Blvd., North Miami, FL 33181
DIRT 232 5th St, Miami Beach, FL 33139
Panther Coffee 3407 Main Highway, Miami, FL 33133
The Coffee Garden 1817 S Ferncreek Ave., Orlando, FL 32806
Holy Grain Coffee 6735 Conroy Rd, Ste 109, Orlando, FL 32835
Felicitous Coffee & Tea House 11706 N 51st St., Temple Terrace, FL 33617
The Blind Tiger Cafe 1901 E 7th Ave., Tampa, FL 33605
The Blind Tiger Cafe 6500 N Florida Ave., Tampa, FL 33604
The Lab 1703 W State St, Tampa, FL 33606
Subculture Coffee 509 Clematis St., West Palm Beach, FL 33401
Harold's Coffee Lounge 509 Northwood Rd., West Palm Beach, FL 33407
Georgia
JavaVino 579 North Highland Ave. Northeast, Atlanta, GA 30307
Land of A Thousand Hills Coffee Co. 232 19th St NW, #7100, Atlanta, GA 30363
Land of A Thousand Hills Coffee - The Warehouse 5095 Post Rd. Cumming GA 30040
Corso Coffee 3065 Peachtree Rd. NE, #210, Atlanta, GA 30305
Hawaii
Island Brew Coffeehouse 377 Keahole St., Honolulu, HI 96825
Island Brew Coffeehouse 1137 11th Ave., Honolulu, HI 96816
Idaho
Flying M Coffee House 500 W Idaho St. #100, Boise, ID 83702
Illinois
Osmium Coffee Bar 1117 W Belmont Ave., Chicago, IL 60657
Elaine's Coffee Call 1816 N Clark St., Chicago, IL 60614
Indiana
Bee Coffee Roasters—Downtown Cafe 201 S Capitol Ave., Suite #110, Indianapolis, IN 46225
Bee Coffee Roasters-Roastery 5510 Lafayette Rd., Suite #140, Indianapolis, IN 46032
Iowa
Davenport Coffee Hound 2642 Brady St., Davenport, IA 52803
Kansas
Reverie Coffee Roasters 2611 E Douglas Ave., Wichita, KS 67211
Kentucky
Please & Thank You 800 E Market St., Louisville, KY 40206
Please & Thank You 2341 Frankfort Ave., Louisville, KY 40206
Southland Perk 472 Southland Dr., Lexington, KY 40503
Coffee Times Coffee House 2571 Regency Rd., Lexington, KY 40503
Louisiana
Brew Ha Ha 711 Jefferson Hwy, Baton Rouge, LA 70806
Fair Grinds Coffeehouse 3133 Ponce De Leon St., New Orleans, LA 70119
Maine
Coffee By Design 1 Diamond St., Portland, ME 04101
Maryland
3 Bean Coffee 209 Key Hwy (William Street), Baltimore, MD 21230
Charmington's 2601 N Howard St., Baltimore, MD 21218
The Bun Shop 22 Light St., Baltimore, MD 21202
The Bun Shop 239 W Read St., Baltimore, MD 21201
The Daily Grind 1720 Thames St., Baltimore, MD 21231
Bump 'n Grind 1200 East-West Hwy, Silver Spring, MD 20910
Massachusetts
Cafenation 380 Washington St., Brighton, MA 02135
Land of a Thousand Hills Coffee 61 Munroe St., Lynn MA 01901
Michigan
Chazzano Coffee Roasters 1737 E Nine Mile Rd, Ferndale, Michigan 48220
Avalon International Breads 422 W Willis St., Detroit, MI 48201
Always Brewing Detroit 19180 Grand River Ave., Detroit, MI 48223
Urban Bean Co. 200 Grand River Ave., Detroit, MI 48226
Strange Matter Coffee 2001 E. Michigan Ave., Lansing, MI 48912
BIGGBY Coffee 725 W Grand River Ave., Suite 2 Williamston MI 48895
Minnesota
Dogwood Coffee Bar 825 Carleton St., St Paul, MN 55114
Swede Hollow Cafe 725 Seventh St. E, Paul, MN 55106
Mississippi
Deep South Pops 1800 N State St., Jackson, MS 39202
Missouri
Roasterie Cafe 6223 Brookside Blvd., Kansas City, MO 64113
Roasterie Cafe 4511 W 119th St., Leawood, KS 66209
Roasterie Cafe 1204 W 27th St., Kansas City, MO 64108
Coma Coffee Roasters 1024 South Brentwood, St. Louis, MO 63117
Shameless Grounds 1901 Withnell Ave., St. Louis, MO 63118
The Coffee Cartel 2 Maryland Plaza, St. Louis, MO 63108
Montana
Ebon Coffee Collective 2712 2nd Ave. N, Billings, MT 59101
Nebraska
Karma Koffee 587 N 155 Plaza, Omaha, NE 68154
Aromas Coffeehouse 1033 Jones St., Omaha, NE 68102
Nevada
Bronze Café at The Market 611 Fremont St., Las Vegas, NV 89101
Holley's Cuppa 9265 S Cimarron Rd., #115, Las Vegas, NV 89113
Sambalatte Torrefazione Jones 6555 S. Jones Blvd., #100, Las Vegas, NV 89118
Sambalatte Torrefazione Boca Park 750 S Rampart Blvd. #9, Las Vegas, NV 89145
New Hampshire
Cafe LaReine 915 Elm St., Manchester, NH 03101
A&E Coffee and Tea 1000 Elm St., Manchester, NH 03010
New Jersey
Short Grain 183 Montgomery St., Jersey City, NJ 07302
New Mexico
Epiphany Espresso 3600 Cutler Ave. NE, Suite 2, Albuquerque, NM 87110
New York
The Bean 101 Bedford Ave., Brooklyn, NY 11211
Sir D's Lounge 837 Union St., Brooklyn, NY 11215
Brooklyn Roasting Company 200 Flushing Ave., Brooklyn, NY 11205
Mon Amour Coffee and Wine 234 W 238th St., Bronx, NY 10463
Brew Coffee House 3217 Philip Ave., Bronx, NY 10465
Spot Coffee 227 Delaware Ave., Buffalo, NY 14202
Sweet_ness 7 Café 220 Grant St., Buffalo, NY 14213
Ground Central Coffee Co. 155 E 52nd St., New York, NY 10022
Ground Central Coffee Co. 800 Second Ave., New York, NY 10017
Ground Central Coffee Co. 2 Coenties Slip, New York, NY 10004
The Bean 147 1st Ave., New York, NY 10003
The Bean 824 Broadway, New York, NY 10003
The Bean 54 2nd Ave., New York, NY 10003
Local 144 Sullivan St. New York, NY 10012
Everything Goes BookCafe 208 Bay St. Staten Island, NY 10301
Ugly Duck Coffee 89 Charlotte St., Rochester, NY 14607
New Roots Coffeehouse 1273 Long Pond Rd., Rochester, NY 14626
North Carolina
Biltmore Coffee Traders 518 Hendersonville Rd., Asheville, NC 28803
Double D's Coffee and Desserts 41 Biltmore Ave., Asheville, NC 28801
Mugs Coffee 5126 Park Rd., #1d, Charlotte, NC 28209
Not Just Coffee 224 E 7th St., Charlotte, NC 28202
Not Just Coffee 2140 South Blvd., Charlotte, NC 28203
Sola Coffee Cafe 7705 Lead Mine Rd., Raleigh, NC 27615
Larry's Coffee 1507 Gavin St., Raleigh, NC 27608
Benelux Coffee 402 Oberlin Rd. #118, Raleigh, NC 27605
North Dakota
The Red Raven Espresso Parlor 916 Main Ave., Fargo, ND 58103
Twenty Below Coffee 14 Roberts St. N, Fargo, ND 58102
Ohio
Pour Cleveland 530 Euclid Ave., Cleveland, OH 44115
Vintage Tea and Coffee 1816 E 12th St., Cleveland, OH 44114
Dewey's Coffee House 13201 Shaker Square, Cleveland, OH 44120
Upper Cup Coffee 79 Parsons Ave., Columbus, OH 43215
Ghostlight Coffee 1201 Wayne Ave., Dayton, OH 45410
The 86 Coffee Bar 2820 Vine St., Cincinnati, OH 45219
Oklahoma
Cuppies and Joe 727 NW 23rd St., Oklahoma City, OK, 73103
The Underground 1621 S Douglas Ste. B, Midwest City, OK 73110
The Coffee House on Cherry St. 1502 E 15th St, Tulsa, OK 74120
918 Coffee 2446 W 11th St., Tulsa, OK 74104
Oregon
Oblique Coffee Roasters 3039 SE Stark St., Portland, OR 97214
Pennsylvania
Tomato Pie Café 3950 Tecport Dr, Harrisburg, PA 17111
Brew Crumberland's Best 1903 Bridge St, New Cumberland, PA 17070
Hubbub Coffee 1717 Arch St., Philadelphia, PA 19103
Hubbub Coffee 3736 Spruce St., Philadelphia, PA 19104
Hubbub Coffee 232 N. Radnor Chester Rd. Radnor, PA 19087
Big Dog Coffee 2717 Sarah St., Pittsburgh, PA 15203
Bookshelf Cafe 1806 Chislett St., Pittsburgh, PA 15206
Rhode Island
LaSalle Bakery 993 Smith St., Providence, RI 02908
Vanuatu Coffee Roasters 294 Atwells Ave., Providence, RI 02903
South Carolina
The Wired Goat Cafe 709 Gervais St., Columbia, SC 29201
South Dakota
Alternative Fuel 512 Main St., Rapid City, SD 57701
Tennessee
The Golden Roast 825 Melrose Pl., Knoxville, TN 37916
Tamp & Tap 122 Gayoso Ave., Memphis, TN 38103
Tamp & Tap 6070 Poplar Ave., Suite #110 Memphis, TN 38119
City&State 2625 Broad Ave., Memphis, TN 38112
387 Pantry 387 South Main, Memphis, TN 38103
ZolliKoffee 701 8th Ave. S, Nashville, TN 37203
Bond Coffee Company 602 12th Ave S, Nashville, TN 37203
Sam & Zoes 525 Heather Pl., Nashville, TN 37204
Texas
Buon Giorno, 915 Florence St., Fort Worth, TX 76102
Savor Coffee Bar & Eatery 1101 E Bardin Rd. #101, Arlington, TX 76018
Vintage Heart Coffee 1405 E 7th St., Austin, TX 78702
Summer Moon Coffee Bar 3115 South 1st St., Suite 1B Austin, TX 78704
Caffe Medici 200 Congress Ave., Suite 2B, Austin, TX 78701
Caffe Medici 804 Congress Ave., No. 101, Austin, TX 78701
Coffee House Café 6150 Frankford Rd., Dallas, TX 75252
i Java & Chai 1820 Coit Rd., #138, Plano, TX 75075
Method Coffee 1623 N Hall St., Ste 101, Dallas, TX 75204
Kinley's House Coffee & Tea 2231 N Mesa St., El Paso, TX 79902
The Nook Café 4701 Calhoun Rd., Houston, TX 77004
Honeymoon 300 Main St., Houston, TX 77002
Bosta 1801 Binz St., STE 115 Houston, TX 77004
White Elephant Coffee Company 1415 S Presa St. #107, San Antonio, TX 78210
Utah
Higher Ground Coffee 2005 E 3300 S, Salt Lake City, UT 84109
Mestizo Coffee House 631 W North Temple, Salt Lake City, UT 84116
Vermont
Uncommon Grounds 42 Church St., Burlington, VT 05401
Virginia
Grounded Coffee Shop 6919 Telegraph Rd., Alexandria, VA 22310
Borjo Coffeehouse 4416 Monarch Way, Norfolk, VA 23508
The Lab by Alchemy Coffee, 814 W Broad St., Richmond, VA 23220
Captain Buzzy's Beanery 2623 E Broad St., Richmond, VA 23223
American Brew 3700 Shore Dr., Virginia Beach, VA 23455
Lynnhaven Coffee Co. 2945 Shore Dr., Virginia Beach, VA 23451
Washington
Drip City Coffee Co. 2929 1st Ave., Suite B, Seattle, WA 98121
Stone Way Cafe 3510 Stone Way N, Seattle, WA 98103
Makeda Coffee 153 N 78th St., Seattle, WA 98103
Indaba Coffee 210 N Howard St., Spokane, WA 99201
Indaba Coffee 1425 W Broadway, Spokane, WA 99201
West Virginia
Moxxee Coffee 301 Morris St., Charleston, WV 25301
Wisconsin
Luna Cafe 330 Main Ave., De Pere, WI 54115
Kavarna 143 N Broadway, Green Bay, WI 54303
Sherman Perk Coffee Shop 4924 W Roosevelt Dr., Milwaukee, WI 53216
Fuel Cafe 818 E Center St., Milwaukee, WI 53212
Moka 2910 E. Washington Ave., Madison, WI 53704
Moka 5227 University Ave., Madison, WI 53705
Wyoming
Coffee Depot 500 W 15th St., Ste 200, Cheyenne, WY 82001
D.C.
Flying Fish Coffee & Tea 3064 Mt. Pleasant St. NW, Washington, DC 20009
Qualia Coffee 3917 Georgia Ave. NW, Washington, DC 20011
Three Fifty Bakery and Coffee Bar 1926 17th St. NW, Washington, DC 20009
Canada
The Rolling Pin 3429 Yonge St., Toronto, ON M4N 2N1
Infuse Cafe 354 Youge St., Toronto, ON M5B 1S5
Infuse Cafe 1000 Gerrard St. E, Toronto, ON M4M 3G6
Milano Espresso Bar 266 Adelaide St. W, Unit 2, Toronto, ON, M4K 3E6
Trafiq Cafe & Bakery 4216 Main St., Vancouver, BC V5V 3P9
h/t Eater