Phillips de Pury Presents: Maxwell the Tastemaker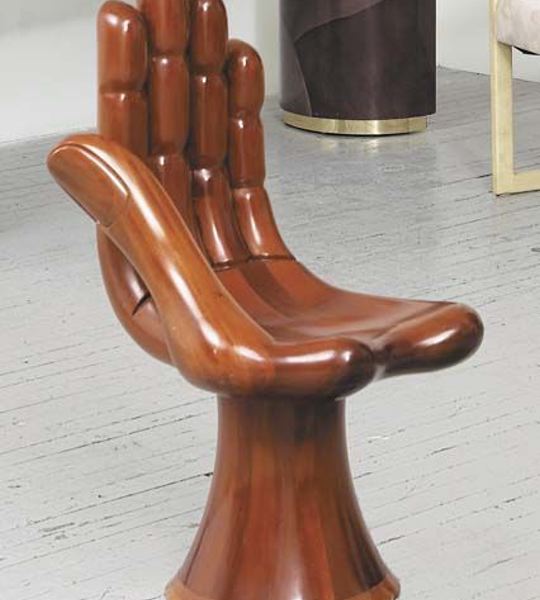 If you are new to the world of art auctions, or just curious what it's like, head over to Phillips de Pury next Saturday for Saturday @ Phillips. On April 26th at 10am and 2pm, new and old collectors will have the chance to bid on a wild variety of art. The auction catalog has just come out and in it is our very own Maxwell Gillingham-Ryan, playing Tastemaker. Max was asked to pick 10 of his favorite pieces in the upcoming auction and explain why. And he did, alongside Simon Hammerstein, of The Box fame, and Irina Lazareanu, model, musician and budding cultural icon.
Max loves Alvar Aalto's cantilevered side chair up for auction next Saturday because he says, "I like designs that are eternally useful. All of Aalto's designs resisted embellishment and set a standard for form and function. IKEA probably wouldn't exist if it weren't for Aalto. I was tempted by the other Aalto designs, but chose this chair because I felt that its curving form would allow the spirit to sail when viewed from another room."
Max loves this Mouille lamp because "it clips to a shelf and would easily fit into any modern home today."
While the interview with Maxwell isn't online, here's one last highlight, Max's fantasy living environment: "My dream home. I've never seen it yet, but I have one planned in my mind that I'd like to build one day. It's based on a barn that Edwina von Gal built with her late husband, Jay Chiat, an English country home, and Jasper Johns' winter painting studio in the Caribbean."
Here are some other great pieces from next Saturday's auction that would work well in one's home....
This auction is chock full of furniture, fashion, high-concept toys, striking photography, some crazy watches, and in general a lot of great art.
These are two editions from the original on exhibit at the Brooklyn Museum's retrospective on Murakami.
Part I: Phillips de Pury Presents: Take Down Your Posters and Buy the Real Thing!
Part II: Phillips de Pury Presents: Saturday@Phillips
Part III: Phillips de Pury Presents: The Tastemakers
Part IV: Phillips de Pury Presents: Weekend of Art...See, Win, Collect