This Little Camper Turns Into a Boat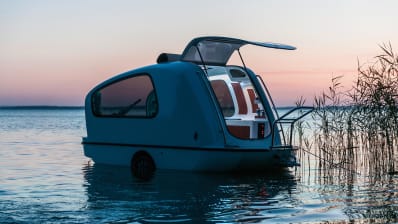 (Image credit: Sealander)
Ready for the ultimate road trip? The Sealander isn't confined to silly things like "land" and "streets" — you can explore on water in this bad boy.
(Image credit: Sealander)
Like the cutest little duck boat minus the quacking tourists, this camper easily transforms from landlubber to seaworthy.
(Image credit: Sealander)
Inside the one-piece, fiberglass-reinforced plastic hull, the interior's materials, colors, and features are customizable. You can add an onboard toilet, shower, cooking station, cooler, audio package, or even just custom curtains and pillows. The benches fold down to create a bed that's comparable to a queen-sized mattress.
(Image credit: Sealander)
Check out the Sealander in action:
The Sealander starts at $15,000.