#6 (TIE!): ROSKILDE & LOBBAK Rugs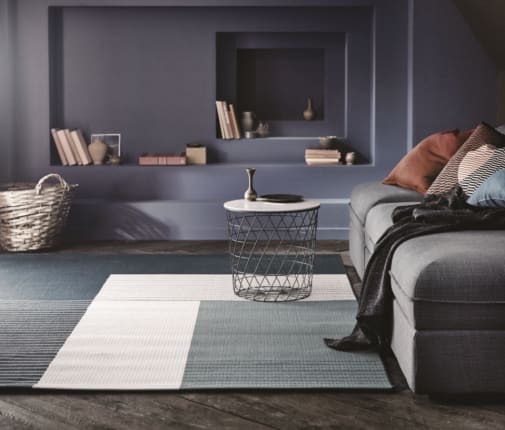 (Image credit: IKEA)
#6 (TIE!): ROSKILDE Rug ($79.99)
Two new stylish, well priced rugs were too hard to chose between: and why should we? The ROSKILDE is graphic and colorful and the LOBBAK adds more subtle pattern and texture. ROSKILDE is designed by Synnöve Mork and the LOBBAK is by Paulin Machado.
IKEA says: When designer Synnöve Mork got to work on the blue and green color block pattern of ROSKILDE rug she was inspired by modern art, architecture and furniture from the 1950s and '60s. The design process itself was an interesting one:
"To create ROSKILDE rug, I started out by painting with colors and patterns from that era. Then I cut everything into smaller pieces, placed them in different directions and put them back together again. The final result became a kind of platform for furniture in the modern home – a rug for all sorts of rooms."
ROSKILDE rug comes in a new format (8'2"×6'7") and being flatwoven it works equally well by a sofa as it does under a dining table, it even works outdoors. Adding style to a patio or deck, there's nothing stopping this rug from looking great for many seasons to come.
#6 (Tie!): LOBBAK Rug ($79.99)
IKEA says: Designed in a traditional herringbone pattern, LOBBAK rug in beige is a durable rug for the entire home. It works well in the dining room as it's flatwoven, able to handle the daily movements of chairs. It's even tough enough to work outdoors, where it can withstand snow and sun.