Tula Telfair's Landscapes
New! Today I'm including email responses from readers below the fold. Thanks to all who reply.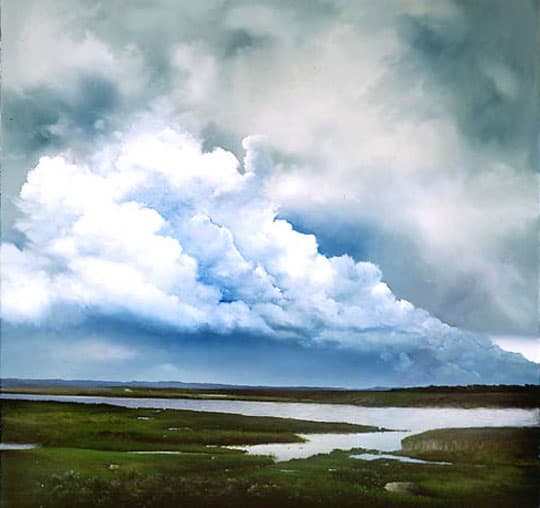 Enjoy these. It was a bit of a long, hard week for me, and last night I found myself up late, thumbing through Sara Kate's college alumni magazine while she slept. While alumni magazines are rarely uplifting, I found these pictures by Tula Telfair (a professor of art) refreshing and inspiring with their raw, expansive, wide open spaces. Nobody paints landscapes like this any more....
Raised in West Central Africa, Tula Telfair (with the kickass name) came to art school in the states, teaches at Wesleyan University and she paints landscapes - not from nature - but from memory. While these have the air of something that might hang in the wing of the Metropolitan Museum, they are NOT Frederic Edwin Church or JMW Turner, these are actually modern. They are created moments where the skies hover over the earth and the light enters in. Let your eye travel around these voluminous spaces and have a great weekend. There are many more behind the link below.
>> Tula Telfair
EMAILS IN RESPONSE TO TULA TELFAIR
-------------------------------------------------------------------------------------------
From Yina:
Hi Maxwell!

My husband and I also enjoyed these works from the recent Wesleyan Alumni magazine of our son, whose graduation in the historic Class of 08 ceremony was equally moving.

As a guest of our son's girlfriend, who is an art student at Wesleyan, we viewed her end-of-year student work back in April 2007. Coincidental to the student exhibit, we were treated to the nearby gallery exhibit of works by Wesleyan's art faculty. We were fortunate to actually view Tula Telfair's work in person. What is not evident from the magazine or her website is the magnitude of the canvasses, most over 5' x 7', which only adds to the strength of the landscapes.

Thanks for sharing with everyone on your mailing list. I continue to enjoy your emails on various topics!

From,

Wesleyan Parents (and Maxwell fans!)
Princeton, NJ
From Michelle:
Maxwell,

I have no recollection of what first brought me to your website. I'm sure that I am the polar opposite of the majority of your subscribers. I live in a home in the suburbs with my husband and two children. I love my life.

With that said, I also couldn't feel any more disconnected from the urban population and all the latest trends. When I see your e-mails with a fun new product, great book or pictures like these, I feel like I'm seeing things through a prism. The few minutes that I review your site are a wonderful break in the day. I feel that I have a connection with others (something that most stay-at-home moms miss) even though there is no dialog.

I know that others are looking at your site and are reawakened to the beauty that you pass along to us.

Thank you!!