You're Gonna Want to Get in This Bed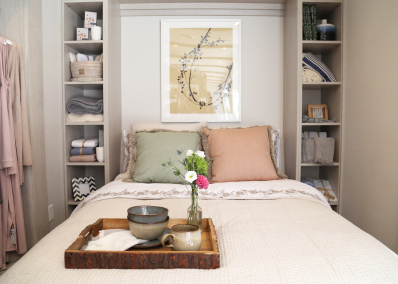 The bed, our dearest place of rest and relaxation, gets a little more appealing when the weather turns crisp. It's important to make it an inviting place all year, of course — especially considering how much time we spend there — but fall and winter call for some extra-special touches. Like what? Oh, we have thoughts.
Serene sheets. One word: flannel. Nobody does flannel sheets better than Garnet Hill — the company started after the owners were inspired on a trip to England to bring flannel sheets stateside. These sheets are durable and buttery soft, and they hit the perfect warmth balance between cozy and kicking-off-the-covers. Order two sets now and thank us later.
(Image credit: Trevor Tondro)
Upgrade your throw game. Come fall, we're all about throw blankets, the more tactile the better. If you sigh when you touch it, it should be on your bed. Nothing is better for a fall Sunday nap.
Pile it on. Greet chilly autumn mornings the way they should be greeted: from beneath a thick quilt. These silk quilts (with matching shams) from the Eileen Fisher collection are an elegant invitation from cooler air.
Finish with a bedside treat. Now that your bed is made, set the tone for a restful night with a diffuser in a calming scent, a new alarm clock with a soothing sound, or a lamp that casts a warm glow.
From high-quality sheets to hand-quilted covers, Garnet Hill's bedding has you (literally) covered this fall.
This post is sponsored by Garnet Hill.
Thank you for supporting the brands that make Apartment Therapy possible.