Peek into a Tiny 432-Square-Foot Shared Stacked Log Cabin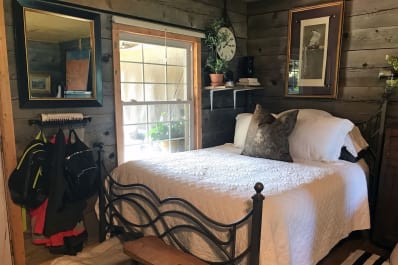 (Image credit: Gretchen Fewell)
Name: Gretchen Fewell, my husband, a giant Schnauzer, and a mutt
Location: Union, West Virginia
Size: 432 square feet
Years lived in: Part-time by myself 7 years; full-time with husband 1.5 years, owned
My 6'4" husband, giant Schnauzer, medium-sized mutt, and myself live full time in our tiny 432-square-foot square stacked log cabin. It's an open floor plan that has all the amenities necessary to function. Yet, allows us to enjoy our stream that runs the length of our 2.28 acres as well as our deep, half-acre pond that is stocked with fish.
(Image credit: morganhorses2001@yahoo.com)
(Image credit: Gretchen Fewell)
Our dogs love to swim in both the stream and pond... it affords us extended living space. Folks ask how we can live in such a tiny home. It's easy... we have designated standing places! And the front porch is another extension of our living space. Our log cabin is peaceful, secure, easy to heat/cool and just plain fun!
(Image credit: Gretchen Fewell)
What is your favorite room and why? Lol.... the entire cabin as it's one room with an enclosed bathroom.
(Image credit: Gretchen Fewell)
If you could magically change something about your home, what would it be? Perhaps add a loft... not sure about the ladder expedition during the night, however. Maybe a bedroom addition, but we are not in a hurry.
(Image credit: Gretchen Fewell)
What's the last thing you bought (or found!) for your home? The IKEA STOCKHOLM rug and DOCKSTA table with Tobias chairs... they brighten the cabin. The clear chairs are comfy, easy to move, and allow it to feel more spacious.
(Image credit: Gretchen Fewell)
Any advice for creating a home you love? Use what you have before you purchase... strong possibility it will work. Then, take your time finding what you are missing.... once you have lived there for a time it's easier to know what's needed.
Thanks, Gretchen!
• Interested in sharing your home with Apartment Therapy? Contact the editors through our House Tour & House Call Submission Form.
*This submission has been edited for clarity and length.