How Amazon's HQ2 Announcement Could Affect Your Rent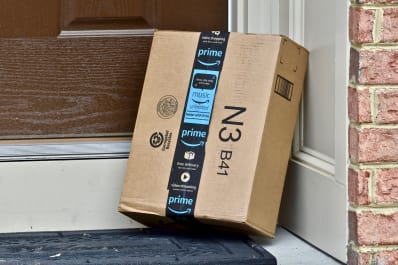 (Image credit: Jeramey Lende/Shutterstock)
According to the Wall Street Journal, Amazon will soon announce that their long-awaited HQ2—home to 50,000 new jobs—will be built in not one, but two metro areas: Crystal City, Virginia—in the D.C. metro area; and Long Island City (LIC), Queens—in New York City. As a New Yorker (albeit a Brooklynite), this news wasn't super exciting. I know by now that a new hot tech headquarters means more people and higher rent prices. As I already pay more for a small room in a four-bedroom apartment than what my friends from high school pay for an entire four-bedroom house in suburban Maryland (I'm not bitter about it or anything!), I'd like my rent to stay somewhat affordable. Also the NYC subway system really sucks, so adding more people to the trains seems like a deleted scene from the dystopian nightmare I'm already living in.
Knowing that it can't be "All About Me," I asked Bridget Mallon (our design editor) if she is feeling bad about an NYC HQ2, too. The answer was yes, but stronger because she actually lives in Astoria, Queens—the neighborhood that borders LIC. She, too, shared my concerns re: rent and subways, but also admitted she was most afraid of everyone moving to Queens all at once, because there has already been an influx of migrating Williamsburg Brooklynites since the L train (that neighborhood's main subway line) is shutting down for who knows how long.
I imagine we're not the only people who feel this way—and we're only really representing the feelings of one of the cities. What is Amazon's announcement going to mean for real estate in Crystal City, as well? Are the area's longtime residents going to be forced to move out as millennials in hoodies and machine-washable sneakers descend on the neighborhood? I reached out to a handful of real estate professionals familiar with the metro areas to find out.
First, let's get the rent question out of the way: Igor Popov, chief economist at Apartment List, doesn't expect New York City or D.C. metro rents to change that drastically overall. In a report earlier this year, Apartment List estimated that New York City would only face a 0.1 to 0.2 percentage point increase if the new Amazon HQ was located there, while rents in the D.C. metro area would rise 0.3 to 0.5 percentage points. Popov predicts that since the 50,000 employees for HQ2 will be split across two cities, the rent increases will be even smaller for the cities at large. However, since the numbers are based upon metro averages, the closer to the HQ, the larger the effect. So if every new Amazon employee tries to live in LIC, then yes, the rents will rise—as they are likely to rise in the neighboring areas, too (Sorry, Bridget!) However, how much of a rent increase? That depends on the area.
Crystal City, Virginia: Ready for a revival
In terms of real estate availability, Crystal City seems like a great fit: In 2005, the area was affected by the military Base Realignment and Closure program, leaving many office buildings in the area vacant. To combat this, a Business Improvement District was created, attracting start-ups and developers to call Crystal City home. It's already somewhat of a tech center, but will grow with Amazon's new rumored location.
"If we really do get half of HQ2, that would be a perfect match for our available commercial and housing space," says Shelly Porter, Realtor at Century 21 Redwood Realty and nine-year resident of the area. Though the area has a limited inventory of single family homes, there are plenty of apartments available within Crystal City proper—and many more options in the neighboring South Arlington areas like Pentagon City, Arlington Ridge, and Aurora Highlands.
This multi-family availability is a good match for the incoming Amazon employees, since they'll be millennials and are more likely to rent, reasons Tracy Williams, vice president of TTR Sotheby's International Realty. Additionally, the infrastructure in Crystal City can support an influx of new residents—at least in the short term, as Williams predicts only between 4,000 and 5,000 employees will come in the first year, many of whom already live in the area—giving developers time to work on needed projects in the long term.
"I don't have any major concerns outside of normal grievances from living in an urban area," Porter says.
In terms of those buying, it's likely that many will explore housing options in neighboring communities. "Buyers will need to look beyond Crystal City and Arlington, mainly because of inventory/supply and demand issues, as well as affordability," Williams says, citing that the average sales price in Arlington so far in 2018 is $651,000, which may be a difficult price for many relocating.
Long Island City, Queens: Maybe the only spot HQ2 makes sense in NYC
Though rents in New York City are actually dropping, remarkably—rents are likely to rise in LIC once Amazon opens up shop. However, the effect will be smaller than if they chose another neighborhood., as LIC might be the only place in NYC that can actually handle an influx of new residents. A 2017 RentCafe study found that more new residential apartment buildings have been built there since 2010 than any other neighborhood not only in New York City, but in the entire country. And since rents rise when the demand is greater than the supply, having enough supply may stall rents from skyrocketing at large.
Though there may be enough units for all the new Amazon employees to live in the area—and even buy if they can afford it—the bigger question in New York City is about infrastructure. Unlike Crystal City, Long Island City still needs to work on opening up supermarkets, shops, and schools, says Hanifa Scully, a LIC-area real estate agent with Corcoran and 11-year resident.
Additionally, there is the problem of the subway: The Metropolitan Transportation Authority (M.T.A.) has major issues being able to keep up with the demand of ridership—especially as the subways aren't designed to service a large amount of commuters from the outer boroughs. Mallon says that the subways in the area are already limited and always crowded, so that will be just an additional issue the M.T.A will need to fix on an already overflowing list.
As for current residents, a huge change to the neighborhood isn't anything residents haven't been expecting. Rising property values seems like a rule, not an exception—so it was just a matter of when. "I would say that most are happy," says Scully. "This announcement shows that there is a national interest in their home."