The Most Popular DNA Tests Are On Sale For Prime Day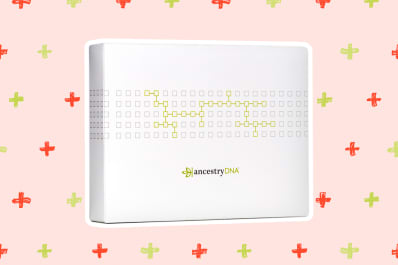 (Image credit: AncestryDNA)
If you've yet to succumb to the trend of spitting into a tube and then finding out your genetic makeup, now's your chance to do it for a discount.
Genealogy website Ancestry.com's popular DNA test is almost half off on Amazon today, and 23andMe's version with health assessments, is also on sale.
The rise of at home DNA testing has been skyrocketing, with 23andMe being a huge hit during Black Friday holiday sales last year. If you need help differentiating, Ancestry's analysis is focused exclusively on genealogy and doesn't include health testing options. Though if you choose a kit with health assessments, take those results with a grain of salt— a study published in Nature earlier this year stated that some of those tests can report false positive results for "increased risk" on genetic conditions.
But how does your spit turn into your family tree? "When you send us your sample, the first step is to extract the DNA from the cheek cells so we can genotype it. DNA contains about three billion letters, but we're looking at 700,000 specific positions, which are ones that we know vary between humans," says Julie Granka, a population geneticist at Ancestry, told Popular Science.
Those positions are called single nucleotide polymorphisms, or SNPs, and are basically minor genetic mistakes, so they don't get fixed and they're passed on to future generations. If you share a bunch of SNPs with another human, it is likely that you're related.
Apartment Therapy staffers have used both Ancestry and 23andMe—here's what they had to say about the experience:
23andMe was amazing especially because I was adopted. I always thought I knew my background based on the little information I knew. I honestly thought I was mostly French, German and from the UK. Turns out I am those three but mostly Slovenian! Now I get to explore this new part of who I am. —Louisa
What I liked is that Ancestry looks to connect you with other people in your family who have registered and/or taken a DNA test. It's a great way to connect people who may have familial bonds, but never knew one another; and since Ancestry was the first well-known company to offer that sort of thing, even before the DNA tests, they likely have a pretty long list of registrants. I only found my aunt, but I could see it being a great tool for someone who doesn't know a lot about their background.—Anne
Apartment Therapy supports our readers with carefully chosen product recommendations to improve life at home. You support us through our independently chosen links, many of which earn us a commission.