This Neck Pillow Got Me Through a 14-Hour Flight to Tokyo. And It's on Sale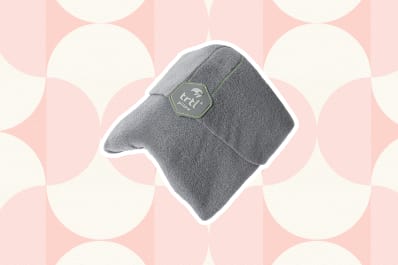 (Image credit: Amazon)
I love travel, which means I tolerate air travel. When the flight attendants say, "Sit back and enjoy your flight," I feel like the more honest phrase would be, "Sit back and get through your flight." And I am generally pretty good at doing just that: a few Netflix shows downloaded on my phone, some podcasts and Candy Crush and I can keep myself occupied for the next few hours.
But, for the longest time, there was one part of flying I couldn't figure out: sleeping. Whether I'm flying super late or super early, or just lulled into exhaustion by the sound of the white noise, I'd inevitably start drifting off and twist around in agony, trying to get my neck and head comfortable. Traditional neck pillows offered little support, and were cumbersome to carry around. I had resigned myself to a life of bad neck aches upon landing, when I discovered the Trtl pillow.
Unlike average neck pillows, this provides actual stiff support for your neck. Fully unrolled, the Trtl pillows is a piece of slightly bent, stiff plastic covered in soft fleece and foam. A long fleece "tail" then allows you to wrap the pilow pillow firmly around your neck, holding the U-shaped support to your neck and chin. This lets you relax your head while still achieving much-needed support.
I bought a Trtl neck pillow a few years ago, and while it's not ever going to be as comfortable as your own bed (or flying in those fully-reclining first class beds), I can say that it does provide both a surprising amount of comfort and support. And, unlike other pillows trying to reinvent the plane sleeping game, this is pretty unobtrusive, both on and off your neck. It almost (almost) just looks like a scarf when on, and, when not in use, it wraps up small enough to go in your carry-on. While the product photos show people wrapping it around their roller board, I find the shape makes it perfect to toss in the bottom of a tote or larger personal item.
After a few months of regular use, however, it was time to put my Trtl to the ultimate test: a 14-hour direct flight from NYC to Tokyo. While I had been on a few transatlantic flights, this was, by far, the longest I'd ever be sitting in one spot. I also wanted to sleep as much as possible to try to minimize the impact of the impending 13-hour time difference. Once I curled up with my noise-canceling headphones, super fluffy socks, and giant scarf-slash-shawl, I strapped my neck pillow on and was able to get a few hours of uninterrupted sleep. I was even able to change sleeping positions and switch the Trtl to my right side to adjust and change things up.
It was on this long-haul flight that I also discovered an alternate use for the pillow: lumbar support. The pillow made my neck and head perfectly comfy, which gave me time to focus on another problem. After hours of more or less the same position, my back and butt were starting to hurt. The U-shape of the pillow allowed me to use it as a sort of quick lumbar support pillow by putting it on my lower back. It also changed how I was sitting enough to relieve some pressure on my seat.
If you want to give it a try, the Trtl pillow is currently 30% off on Amazon for Prime members, as part of their countdown to Prime Day. Even if you don't have a half-day of plane travel ahead of you, the investment might just pay off.
Apartment Therapy supports our readers with carefully chosen product recommendations to improve life at home. You support us through our independently chosen links, many of which earn us a commission.