The 5 Books You Don't Want to Miss This Summer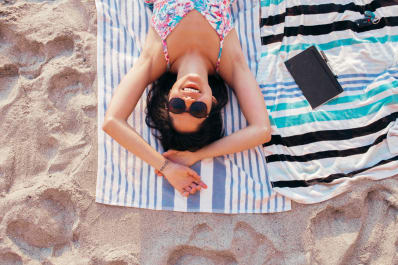 (Image credit: paff/Stocksy)
September is fast approaching—don't let Labor Day pass without catching these great beach reads.
MEM by Bethany C. Morrow
Let's start with a book that showed up around Memorial Day weekend, and now you can read it over Labor Day. In this inventive dystopian story, a scientific breakthrough means humans can have memories removed from their brains. These extracted memories, also known as Mems, experience that memory on loop until they expire. Enter Dolores Extract #1: The first Mem who can create her own memories and her own life. When she is summoned back to the Vault where Mems are kept, her already-mysterious life takes a new, dramatic trajectory.
Weirdness and surrealism permeate the 17 stories in Nutting's collection—from a woman who wants to become an ant farm, to another who is a groupie in a band that worships the Worm Eternal. Before you shy away from these unconventional tales, know this: Though the settings are odd, the emotions that women feel and the problems they try to solve are universal.
Florence is in her eighties, living at the Cherry Tree Home for the elderly, when she falls and has to wait for help. While she waits, she tries to sort out a few mysterious things that have been happening around the home—the most compelling being the reappearance of a man she thought had disappeared. With the help of her longtime friend Elsie, Florence has to sort through her sometimes-unreliable memory to make sense of both her past and present.
Jon and Chloe are best friends growing up in a small town, but Chloe's childhood is changed when a substitute teacher kidnaps Jon. Chloe never stops thinking of him, and as a result, can't quite fit in. When Jon escapes, he realizes that he has an intense power that could put Chloe in danger, so while she works to find him, Jon has to run to protect her.
It's hard to summarize this book without spoilers, so I'll leave you with this: When you finish this book, you'll wonder what you'd just read. Lavinia leads an extravagant lifestyle, and Louise is overwhelmed by their fast, intense friendship. As they become closer, and Lavinia becomes harder to please, their relationship takes some dark and twisted turns.
Apartment Therapy supports our readers with carefully chosen product recommendations to improve life at home. You support us through our independently chosen links, many of which earn us a commission.