8 Instagram Accounts That'll Help You Save (Not Spend!) Money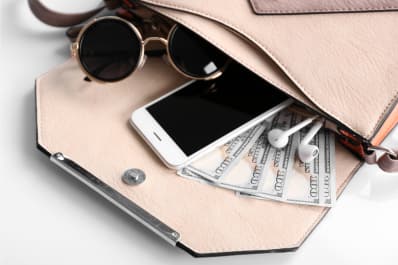 (Image credit: Africa Studio/Shutterstock)
Let's be real: With all of the shoppable links and decorating inspo posts filling up our feeds, browsing Instagram usually makes us want to spend money more than save it.
If your swipe-up-to-buy finger is itchy, you should add a few of these follows to your feed instead. Not only are they full of money-saving inspiration, they'll also help you learn how to better balance and manage your bank account in the long run.
Read ahead for eight IG accounts that'll school you on the art of scrimping.
Believe it or not, you can save a lot of moolah by learning how to upcycle—a.k.a. recycle and upgrade—your old stuff. Case in point: @upcyclethat, an Instagram feed solely devoted to teaching its followers how to successfully repurpose used goods into cool new items—like DIY reclaimed wood floating shelves and a dish rack made from hangers—so you can save money and score a well-designed apartment at the same darn time.
Designed specifically for women, @clevergirlfinance is all about empowering women to pay off their debts, save money, and build their own financial success. Appropriately, this IG feed is filled with thrifty tips, pics, and posts from financial expert-slash-founder Bola Onada Sokunbi along with advice from other celebrated female finance aficionados from around the globe.
Kind of like your favorite feed of memes, but for saving money, @thefinancebar is packed with encouraging quotes and tips about how to cut back on spending while still living your best life. In addition to short but impactful posts, this IG offers all sorts of motivational mini-challenges for bolstering up your bank account.
If you consider yourself more of a visual learner, then @wisewomanwallet is the Instagram account for you. Overflowing with colorful charts, checklists, and money-saving challenges, this straightforward feed is like a flash card game that preps you for your financial future.
Brimming with tips from financial experts on subjects such as paying bills on time and traveling on a budget, @thefinancialdiet is all about educating followers on how to handle their moolah like grownups. Come for the inspirational quotes but stay for the eye-opening statistics—did you know 20 percent of the food Americans buy never gets eaten?—that'll scare you into scrimping.
When Erin Lowry launched her Broke Millennial blog years ago, she did so in hopes that she could help struggling young people get their financial lives together. Her IG account is outfitted accordingly, complete with thoughtful tips for pinching pennies and informative videos on subjects ranging from the gender wage gap to financially exploitative employers to avoid.
The only thing better than an IG account designed to help you save money is one that helps you save money on food. Along with providing affordable—and delicious—recipes (usually with a cost breakdown), @budgetbytes fills their feed with informative posts like "how to freeze leftovers" and "30 ways to use leftover spinach" so you can eat well for cheap while saving money.
Former actress-turned-financial expert Stefanie O'Conell has made a career out of schooling young people on how to better manage their money. Her Instagram account is oozing with inspo quotes and memes as well as money-saving tips for millennials in creative fields, such as bloggers, artists, and photographers.