The Best State for Young Homeowners, According to Statistics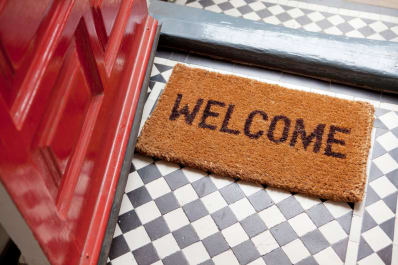 (Image credit: Image Source/Getty Images)
Certain areas of the country, like Seattle, Washington, and Denver, Colorado, are notorious for their influx of young folk—be it for their tech-hubs, Instagram-worthy walls, or to-die for food. But when it comes to putting down roots, where are younger people buying homes? A new report from LendingTree ranked America's metropolitan areas by average age of homeowner, and not surprisingly, (with one exception) the coolest millennial cities didn't fare too well. Rather than Washington or Colorado, the youngest homeowners are actually most commonly found in no state other than Utah.
For the study, LendingTree used the Census Bureau's American Community Survey (ACS) to look at the average age of owner-occupied housing units (or the average age of every householder who owns their home). Provo, Utah, took the top spot for youngest average homeowner, with the average age of 47.3, compared to the national average of 54.
Though homeowners might still skew middle aged, Provo is a relatively young city. The average age of residents in Provo is 29.2, most likely affected by the large part of the population made up of university students.
Next on the list was Ogden, Utah, with an average homeowner age of 49.4, followed by Salt Lake City, at 50.1.
Remember that this is the average age of homeowners. It's not that all homeowners in Provo are in their mid-40s—what it more likely means is that there are more and more millennials buying homes in these metro areas, so it's driving the average age down.
In my opinion, Utah is seriously underrated for a lot of things, but considering all it has to offer, it makes sense to see multiple cities in Utah on the top 10 list. All three Utah cities offer affordability and prospective growth—in fact, the ACS one-year survey reports that the median household income for the Provo-Orem Utah metro area was $70,196 in 2017, meaning it's almost $10,000 more than the national average median income of $60,336. Additionally Utah has low foreclosure rates, and a low unemployment rate (3.2 percent compared to 3.7 percent nationally)—two factors that help people become homeowners quicker.
Rounding out the top 10 list of youngest homeowners are Des Moines, Iowa (50.4); Austin, Texas (50.6); Raleigh, North Carolina (50.6); Omaha, Nebraska (51.2); Minneapolis, Minnesota (51.2); McAllen, Texas (51.3), and Houston, Texas (51.3).
Austin is the rare millennial city to be on this list—but as housing prices rise, we're likely to see millennials priced out of the market in the next few years.
On the other end of the spectrum, it's no surprise that seven of the 10 metro areas with the oldest average homeowners are all in Florida. Want to see the whole list? Check out the full study on LendingTree.