Here's How We Can Help Those Affected by the California Wildfires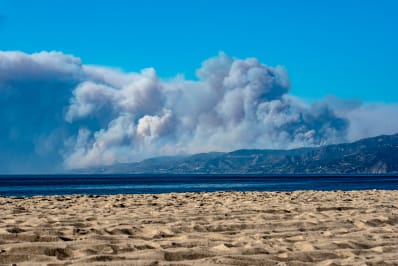 (Image credit: John Dvorak/Shutterstock)
It's heartbreaking to watch the destruction caused by the wildfires in California. Now declared the most devastating blaze in the state's history, nearly 200,000 acres of land has been razed, and 31 people have died, according to CNN. The Camp Fire in Butte County and the Woolsey and Hill Fires in Ventura County have ravaged entire towns, destroying homes and taking lives. If you would like to help, here are a few organizations that could use your generosity:
With tens of thousands of people forced to evacuate their homes, the Red Cross is providing shelter and support. If you'd like to donate, visit redcross.org, call 1-800-RED CROSS or text the word REDCROSS to 90999 to make a $10 donation. Their website and free phone app also allows people to find an evacuation center if they're in harm's way.
To make a financial donation to the state of California's volunteer program, visit their website. You can specify which fire you're inquiring about, and can also find out how to volunteer up housing for evacuees and first responders. They also provide some good advice regarding donating supplies and making informed contributions.
The LAFD Foundation published a tweet on Saturday requesting donations. You can visit their website at supportlafd.org to help provide access to hydration backpacks for the brave firefighters working to combat the wildfires. "Any amount of money you can spare makes a difference," the organization wrote.
EMERGENCY UPDATE: @LAFDFoundation needs your help. We're requesting donations at //t.co/1G3X567piv to provide hydration backpacks for @LAFD firefighters working tirelessly to contain the fires across Southern California. Any amount of money you can spare makes a difference. //t.co/FOsQZBBO68

— LAFD Foundation (@LAFDFoundation) November 10, 2018
The VCCF has set up a fund specifically to raise money for the devastation caused by the Woolsey and Hill Fires. Visit the Hill Fire/Woolsey Fire Sudden and Urgent Needs Effort Fund page to directly donate. You can also stay up-to-date by following their Facebook page.
Whether you need housing, or your home is available to take in those fleeing from the fires, Airbnb is available to connect you.
The Camp Fire is ravaging Butte County, and the Salvation Army's Del Oro Division has been working to help evacuees through the devastation by providing meals, essential items and emotional care. The Southern California division of the Salvation Army is working to support victims of the Woolsey Fire, which has even burned down Camp Wilderness, one of the organization's many summer camps.
Google is collecting financial donations to help Southern California. They'll send the donations to the Center for Disaster Philanthropy, which will then determine which organizations need it. Meanwhile, Facebook has teamed up with Global Giving to help victims in Northern California.
As always, before you make a donation you should do your research on where you're sending your money. Sites like Charity Navigator are extremely helpful in times like these.
We would like to say thanks to you, the Apartment Therapy community, for always being ready to jump in with your support. Please add any additional organizations or information in the comments below!