You Can Now Watch All of Daria While You Get Excited For The Reboot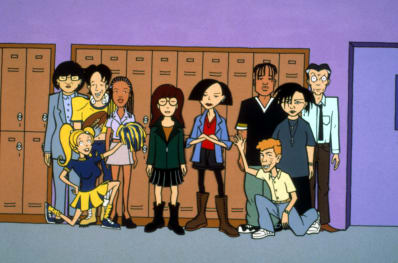 (Image credit: © MTV / Courtesy: Everett Collection)
In case you wondered otherwise, 90s-centric culture nostalgia continues, with the recent news that MTV's Daria is in talks of getting its own reboot.
At least in this case, MTV is smart enough to bring Jodie, the unsung hero of the original, to the forefront and is calling the reboot Daria & Jodie. If you're unfamiliar with the original, which ran for five seasons from 1997 until 2001, you can watch it all on Hulu — the streaming platform just picked up all 65 episodes of the series.
Meanwhile, the reboot is being shopped around to streaming platforms by MTV, but it doesn't yet have a home. If picked up, the new version would be led by Grace Edwards, who has written previously for shows like Inside Amy Schumer and The Unbreakable Kimmy Schmidt. It's rad they're actually putting a woman in charge of a show about a teenage girl. But still, for many fans of the original series run, a big question looms: Do we need another beloved icon to be brought back from the dead? What is the cost of doing so?
Primarily speaking, the original was deeply entrenched in 90s culture, which is now a big part of its charm. That said, what does a 2018 version of Daria look like? Will our hero be forever rooted in a world of Doc Marten boots and using the actual phone to call for pizza delivery, or will the showrunners bring a 90s icon kicking and screaming into 2018? In any case, just hope that no one invites Beavis and Butt-Head to the new episodes because no one needs to see how the last two decades have fared for them!
If you're excited for the reboot, more power to you. But if you've yet to see the original series, definitely invite your fellow 80s and 90s kids over for a watch party ASAP.