4 Phone Calls That Could Save You Hundreds of Dollars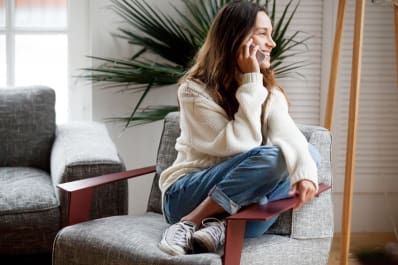 (Image credit: Fizkes/Shutterstock)
These days, actually using the phone to call people has pretty much fallen by the wayside. But here's ample reason to pick up the phone: By making a few simple calls—and asking the right questions—you could save hundreds on your household bills.
And the best part about living in 2018? You can actually pay someone to do it for you. According to U.S. News & World Report, there are several services that will lobby with your providers for better rates. They only get paid if you save money, and their fee is a percentage of your savings. It's win-win, so reach out to one. Now, here are four phone calls you can make right now (or pay someone else to) that will truly pay off.
Cable bill
Not everything is negotiable in this world, but some bills are—including your cable bill. Call up your provider, talk to customer service, and tell them you'd like to save some money and are looking for a discount, suggests NerdWallet.
Usually, because they want to keep you as a customer, they'll find a way to trim some bucks off your monthly fee, whether by applying a promotional rate or removing services you don't need. It'll strengthen your argument even more if you can cite a better rate offered by one of their competitors.
Cell phone
Considering how heavily we rely on our cell phones, it's no wonder it can be one of our biggest bills. However, there are ways to trim the fat—like making some tweaks to your data plan. According to CNBC, the "Big Four" carriers—AT&T, Sprint, T-Mobile, and Verizon—often push people into high-speed unlimited data plans, but the average person only uses about 5.8 GB per month.
Check your average data usage for the past year or so and determine if you could do with less data. Then call your carrier and switch plans if you're not bound to a contract.
Car Insurance
Another area where you might be overpaying is car insurance. It pays to shop around for better rates at least once a year, according to The Penny Hoarder.
If you don't drive all that much, consider paying by the mile instead, which you can do through the insurer MetroMile, according to The Penny Hoarder. There are some caveats—you have to install a mileage-tracking device in your car, and your car has to be a 1996 model or newer—but you could save as much as $500 if you only drive 5,000 miles a year. Give them a call and see if it makes sense for you.
Electricity
Electric bill through the roof? Get your utility company on the horn. This is another case where you can call your service provider. Tell them you want to cut costs and inquire about discounts such as off-peak rates—which can be up to 30 percent cheaper—or rebate programs, according to USA Today.