This Winter Is Going to Be Long, Snowy, and Very Cold, According to the Farmers' Almanac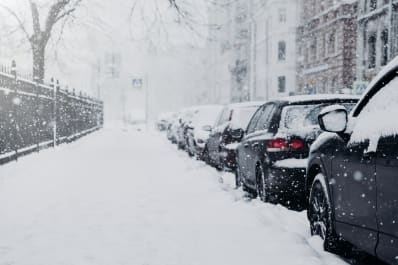 (Image credit: VK Studio / Shutterstock.com)
How is it already almost the end of November? It feels like we were just eating our weight in Halloween candy, then we blinked and we were finishing our Thanksgiving dinner plate. Now, everyone is racing to get their holiday shopping done when the best sales are available online and in stores. As Christmas fast approaches, that also means that winter is on its way.
The first day of winter isn't technically until December 21st, but areas in the north have already experienced snow. The first snowfall in the Tristate area nearly crippled the Department of Transportation. Well, it looks like that was only a small taste of what is to come. According to the Farmers' Almanac (not to be confused with The Old Farmer's Almanac), this winter will be long, cold, and snowy.
Before you freak out, it seems like we have a few months before the worst of the cold hits according to The Farmers' Almanac.
So just how cold will it be? The real teeth-chattering arrives mid-February especially in the following zones: Northeast/New England, Great Lakes, Ohio Valley, Midwest, and Southeast (yes, even the Southeast will be in the chill zone!).

During this time, an Arctic cold front will produce blustery and bitter winds, a sharp drop in temperature, and widespread snow showers/squall activity along and ahead of the frontal line.
The Farmers' Almanac has been around for the last 200 years now. Since 1818, predictions for a long-range forecast have been created using a mathematical and astronomical formula.
On top of the frigid temperatures expected, there will also be an unusual amount of snow and wet winter weather across the Pacific Northwest, Northeast, and Mid-Atlantic States. In these areas, the thermometer will be hovering around that freezing mark (32 degrees Fahrenheit), which means that this expected precipitation can fall as either rain, snow, or freezing rain. How lovely! An above-normal amount of precipitation is forecasted to fall in the Southwest during December, and then the Southeast in January and February 2019.
March is expected to still bring snow and that means we'll most likely get a late start to spring (the first day of spring is March 20, 2019). The Farmers' Almanac is "red-flagging March 20–23 for a potent East Coast storm that could deliver a wide variety of wintry precipitation just as we are making the transition from winter to spring."
You might not be ready for winter yet, but that doesn't mean you can't start preparing. These 7 smart home products will keep you warm well through 2019. You can make your bedroom ready for all of those Netflix and blanket cocoon weekends coming up. To finish up your home for winter prep, you can insulate your windows to keep the freezing temperatures out of your house.
If you want to know exactly is expected for your area, you can head to The Farmers' Almanac to check out your zone.