It Wasn't Just Dyson Vacuums: The Random Stuff We Actually Bought On Prime Day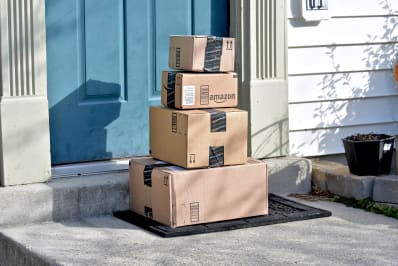 (Image credit: Jeramey Lende/Shutterstock)
Prime Day 2018 finally came (and went) this week, and it was a mix of great deals and true moments of WTF. But somewhere in the middle were the random deals we actually bought: the sometimes weird, sometimes boring, sometimes inexplicable things we purchase from Amazon because of the pressure of sales – or just because it's Amazon.
Below, Apartment Therapy staffers share a few of the things they actually bought on Prime Day.
"So I was heavily influenced by our best beauty deals article yesterday. I got a text from my boyfriend that said, 'Why do you have $50 sunscreen in the Amazon cart?!' I also got a salt lamp even though I missed the deal on it. (I didn't buy anything I was actually watching sales for!) I then bought two pairs of leggings from Outdoor Voices because they were doing a rival sale. Then I put some stuff in my Sephora cart and fell asleep." –Anita Chomenko, Associate Producer
"It was $15! C'mon, you gotta buy it just so you can tell people you got it for $15!" –Chris Mainenti, Executive Director of Commerce
"I'm terrible at flossing consistently so when I saw the waterpik on sale (the one from my own post!) I thought, 'This could actually be fun and make me want to floss?' At the very least, a tiny powered squirt gun could come in handy during a heat wave." –Tara Belluci, News and Culture Editor
"I've been trying to save money by getting all my books at the library. The only problem? When I really, really like a book I am sad I have to return it. When I saw the $5 off $20 on books deal, I just had to purchase a book I've already read. Now I had another problem– it was only $16, so I had to buy a second book to get the deal. So much for my money-saving efforts." –Marshall Bright, Commerce Editor
"Talk about timing. I lost my wallet Monday night (I found it a few hours later thankfully!). But to avoid that mini panic attack again, I brought the Tile on Amazon. For those of us who lose everything hopefully this bluetooth tracker thing helps." –Brenden O'Shea, Junior Staff Accountant
"I bought The James Bond Collection—all 24 Bond films on blu-ray. My family has been into Bond films since I was a child, so I figure I will give it to my mom for Christmas. I almost wish I had nabbed another one for myself! My fiancé bought dishwasher pods, deodorant and energy drinks. I think my purchase was far more exciting." –Anne Ebeling, Execeutive Video Producer
Okay, and there was one Dyson vacuum...
"My vacuum has been slowly losing steam over the past year and I've been working up the nerve to splurge on the mother of all vacuums: a Dyson. I went back and forth on it all day—it's so much money. Egged on by my coworkers who swear it's worth every penny, I finally decided to do it at 11:55 pm, with five minutes to spare (I know, I know, Prime Day actually ended at 3 a.m. on the East Coast, but I like this narrative better—and I needed to go to bed). My husband also bought a surge protecter. We don't need a surge protector, but he's psyched, so whatever." –Laura Schocker, Editor-in-Chief
Apartment Therapy supports our readers with carefully chosen product recommendations to improve life at home. You support us through our independently chosen links, many of which earn us a commission.