Surprisingly Handy Things I Found at Five Below (of All Places!)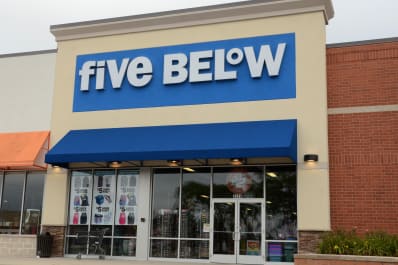 (Image credit: Susan Montgomery/Shutterstock)
Five Below isn't in my usual shopping rotation. But there's one right next to my local Target and Trader Joe's (both of which are regular stops), and I ran in the other day in a burst of curiosity. If you're not familiar, it's kind of like a dollar store meets Spencer Gifts, with a smattering of novelty stuff meets impulse items. But, while poking around, I found some actually pretty useful things, all of which were pleasant surprises and might just give Target a run for its money.
A lot of this stuff reminds me of Room Essentials, which is Target's affordable line of everyday home basics.
If you need a super quick way to decorate your walls or display your family photos (or holiday cards this season), these cheap little kits are only two bucks (!) and are just the ticket. Forget expensive frames, or putting nails in the wall. You can probably even get away with using Command strips to hang these, making them good for renters and dorm rooms.
Sometimes Command strips just won't hold the necessary weight, which is when over-the-door hooks and organizers come in handy. Again, they are great for renters, and a versatile way to add storage to your apartment. Use them to hang your robe in the bathroom, coats on the back of your closet door, or for dishtowels in the kitchen. For comparison purposes, you can buy one double hook for $6 at Target.
Wire Grids, $5
Wire grids are an organizational basic, which can then be outfitted and customized to suit any space in your house. They are one of the most versatile tools around, and also happen to be pretty affordable—especially this one for five dollars, which also comes with clips. That's half the price of Target's similar gold version.
You can't own too many of these cheap plastic parts bins. All the small compartments are great for handling jewelry, corralling bathroom supplies under the sink, or storing little office supplies like tacks and paper clips. At $4 each, you can rationalize buying a container for every doodad you own.
Waste Baskets, $5
These plain white trash cans are the little black dresses of storage. You can own more than one, and they work pretty much anywhere. Use them in the bathroom for... wait for it... trash, but they're also helpful for things like yarn, kids toys, and cleaning supplies— a five dollar no-brainer.
LED Lighting, $4
If you want to brighten up a room, but don't want to mess around with anything electrical, easy-to-add plug-in light fixtures are the way to go. These rope lights are pretty stylish for four dollars (love the pink and blue), but string lights also add a ton of cheer and atmosphere.