11 Free or Cheap Ways to Upgrade Your Airline Experience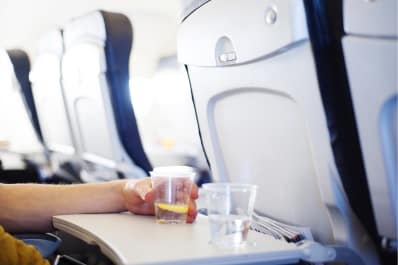 (Image credit: Halfpoint/Shutterstock)
Gone are the golden days of flying, when you would wear your best clothes onboard to eat a steak dinner served on white linen "tables"—while the flight attendant mixed up martinis in the back. But just because the flight experience has changed doesn't mean you can't have a good time.
There are a couple of sneaky ways to try to get out of economy and behind the blue curtain into first class the next time you fly. Or, if business class if fully booked, these maneuvers could just get you everything from free mini wine bottles to an extra bag of chips thrown into your lap–which might not be as great as extra leg room, but it's still something!
1. Be Nice To The Flight Attendants
The easiest way to get free stuff on your flight—from extra glasses of champagne to an avalanche of blankets—is to be nice to your flight attendants. "You'd be shocked how many people board the plane and ignore me completely when I say 'welcome,'" shares Katie, who has been with Delta for six years. "Some people try to threaten or intimidate flight attendants thinking we will upgrade them, but when that happens they get the bare minimum." The reverse of that is true, too—if you go out of your way to be kind, attentive, and generally non-fussy, you will have a bigger chance for a hookup.
2. Bring Goodies For The Crew
This might seem like a bribe, but it works. "It's kind of a common thing when airline crew are traveling for leisure to bring chocolates or treats for the crew, and pretty much whoever brings the crew treats gets the hookup—free drinks, bottle of champagne to take home, etc." Katie says.
This treat doesn't have to be extravagant, either. It's just meant to show that you considered the crew and won't be a problem passenger. "Something you can purchase from a quick magazine store in the airport, like a snack or magazine, is great, It's just nice to be considered. You might not get an upgrade but they will give you free things for sure," Destiny, a flight attendant at WestJet, agrees. (I can't make any promises, but the worst that will happen is good karma.)
3. Be Helpful
This won't always work, but the more helpful you are, the more likely you will be to get bumped to first class or get freebies. For example, does a parent want to sit next to their kids, or does an older person want to sit by their spouse? If you happily move, the flight attendants might notice and reward you for making their job less stressful.
The same goes for more serious situations. "Flights are usually full so it's rare we can move someone up to first, but once I had a passenger emergency, the plane needed to return to JFK, and some passengers ended up getting off. There were two guys who helped us restrain the passenger in question and we were able to reseat [those helpful passengers] in first class, so that was our way of saying thanks,"Katie shared.
(Image credit: David-Prado/Getty Images)
4. Be The Only One Not Throwing A Fit
Airports and air travel can be stressful, but keeping your cool while everyone is losing it often gets you rewarded. For example, a few months ago when I was traveling to India, I ended up in the check-in line where the gate attendant was charging everyone for their bag. Everyone that approached her ended up arguing for a heated five minutes before eating the $70 surcharge, but when I came up to the counter I smiled, shrugged with a "what can you do" flair, and took out my credit card. She paused, clicked something on her computer, and said I didn't need to pay it after all. This obviously won't always be the rule, but rolling with the punches goes a long way.
5. Don't Mass Delete Your Emails
No one likes going into their promotion email folder, but if you sign up to your favorite airlines' newsletters, you can sometimes catch a great discount or free upgrade. It's worth a skim.
6. Try The Middle Seat Trick
Whenever I fly with a friend or partner, we try to book the back row with the middle seat empty. People usually try to get seats in the front of the plane, and not many people will choose the middle seat unless it's a full flight. Which means more times than not that seat will be empty and you will have the row to yourself.
Upgrade Hacks That Will Cost You A Modest Amount:
For those willing to shell out a little bit of money for a better experience, check out these tips. They aren't free, but they will certainly add value to your travel day.
1. Buy A Lounge Pass
Many airlines offer a day pass to enter their lounges, where they usually cost anywhere from $20 to $30. Not only will you get free food and drinks, but kicking back in one of their cushiony seats is much more comfortable than jostling for room at the gate.
2. Use Apps Like Lounge Buddy
Apps like LoungeBuddy will help you find and pick lounges at the airport you are soon arriving in, letting you browse through photos, amenity summaries, prices, and reviews to help you choose which lounge is best for you at that moment, and you can buy a pass right through the app. It can also help you find which lounges are available to you for free with your credit cards, elite status, or other factors.
3. Get A Card With Perks
If you're a frequent traveler, then it might make sense to get a card that offers perks and bonuses for those who fly. For example, both The Platinum Card from American Express and Chase Sapphire Reserve will give you free access to thousands of lounges across the world.
4. Join The Airline's Loyalty Program
If you're hoping to get a free upgrade, an easy way to bump your name ahead on the list is to become a loyalty member. If there are any freebies to give out, loyalty members will be up for them first—even if you're at the lowest level.
5. Treat Yourself To A Cheap Upgrade
Second class now has mini-upgrade sections at the front of the plane, where for a small fee you can get roomier seats, more legroom, priority boarding, and free alcohol and snacks. Look for rows that are labeled "Preferred," "Comfort," or "Plus," and look at what the airline offers in terms of perks—they vary from airline to airline.
For example, Virgin America offers one free checked bag and complimentary snacks and drinks, and Delta gives you reserved overhead bin space for your carry-on, as well as complimentary beer and snacks. Sometimes the upgrades are as cheap as $15, so it's worth a look.