Before and After: An Online IKEA Order Solves a Classic Shoe Storage Problem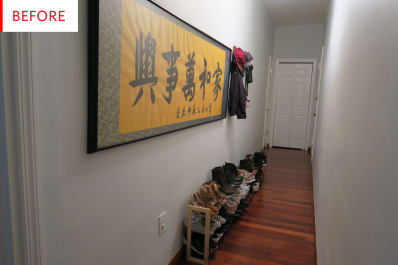 (Image credit: Kate Sheehan)
While this entryway looks pretty organized and well-wrangled in this photo, the entryway's owner assures us that it was actually "cluttered and disastrous" on a daily basis. IKEA to the rescue!
Reader Kate Sheehan explains the issues this hallway was causing:
I had tried to make the entryway nice with two industrial shoe racks, but my husband and I have so many shoes that the hallway always looked cluttered and disastrous which is not a particularly great first impression. Our hallway is also so narrow that we were tripping over shoes all the time!
"Cluttered and disastrous" is such an excellent descriptor for so many challenging spots in the home—especially when shoes are involved, as they tend to tumble and flop. Let's see how Kate solved the eternal shoe storage challenge...
(Image credit: Kate Sheehan)
This is such a beautiful upgrade. The long, ultra-narrow shoe cabinet enhances the long, narrow hallway, while its upright profile also calls attention to the hall's height and its white hue helps it disappear against the wall. The overall effect is elegantly delicate, which is not usually how one would describe a storage solution. The steady march of the petite wall knobs echoes that of the cabinets' small handle notches, while the dainty dried flowers are allowed to shine, thanks to the understated decor.
(Image credit: Kate Sheehan)
Here's Kate again:
I decided to make a change because I wanted to stop feeling like I was coming home to a disaster zone every day, and I was embarrassed that it was the first thing our friends and family saw walking into our apartment. I saw a picture on Pinterest of skinny IKEA shoe cabinets which was my "a-ha!" moment. I ordered three of them online that day.
(Image credit: Kate Sheehan)
This new arrangement fits into the home's overall decor much better than the old one did. It sounds like Kate is pretty happy with the results:
I LOVE that the shoe cabinets are actually thinner than our previous shoe racks; I feel like I have so much more room to walk through the hallway now! It just feels so much more streamlined and clean, and I think it's the perfect solution for the space. I'm also obsessed with the framed pressed foxglove flowers, which I got off of Etsy. If I could do it again, I would go back and figure out how to add shimming behind the cabinets make them more straight but I think they turned out ok!
The shoe cabinets are the IKEA STÄLL, which here cost about $400 for the set, if anyone want to do this project themselves.
Want to streamline your shoe storage too? Here's what it took:
It took about four hours over the course of one weekend, and the majority of that was assembling each of the cabinets. I did most of it myself, and my husband took over assembling the last cabinet when I had tired myself out. He also helped me attach them to the wall. Our biggest setback was starting to attach the cabinets to the wall and realizing that, since we live in a pre-war apartment, our walls aren't actually straight. Because of that the cabinets aren't perfectly flush to the wall, but I don't really mind because I don't think it's too obvious (at least I hope not)!
(Image credit: Kate Sheehan)
The framed foxgloves are from Frame and Flora on Etsy, and the white oak wall knobs are from JBplusDG on Etsy.
If you would like to clear up your own clutter and mitigate your own entryway disaster, Kate has some encouragement for you:
Assembling the first cabinet is the hardest part—once you get the hang of it, it only gets easier (and quicker!) from there!
Thank you, Kate!