These Are the Best Holiday Decor Deals at Lowe's This Season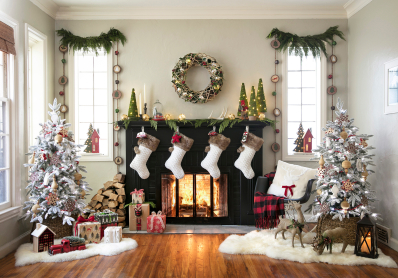 (Image credit: Lowes)
The whole idea of Black Friday is so ingrained in us now that it almost feels like a tradition. If lining up for doorbusters is your thing, by all means, do it. But our idea of a better tradition for the day after Thanksgiving is to spend the day at home with our families, putting up our holiday decor.
This year, Lowe's is breaking with tradition this year by offering Black Friday deals throughout the entire month of November, which includes their holiday decorations. We scoped out some of their best deals, so you can get what you need now, actually enjoy your Thanksgiving, and start decorating on Friday.
1. These holiday lights are less than $2, cheaper than a figgy pudding, and won't burn out if one of the bulbs is broken or loose. Looking to incorporate lights differently into your holiday décor? Try adding string lights to garland draped on a banister or mantle for a simple but unique look.
2. Good news: Even trees are on sale at Lowe's! And this one is lit (literally). Ornaments only required.
3. Handle your front door decor in one swoop with this kit which features potted trees, garland, and extra cheer.
4. Save a few bucks when you adopt one of these buck lawn sculptures at 20 percent off.
5. Stock up on stockings. At less than $15 apiece, there's no reason not to.
6. This regal reindeer is a decorative way to hang stockings without damaging your mantelpiece.
You might not think of Lowe's as a source for art, but their affordable wall art is set to change that.
Ready to create your own winter wonderland? Get your home holiday-ready and enjoy up to 40 percent off at Lowe's.